Story: Wrong Move (A Pidgin Story) – Episode 4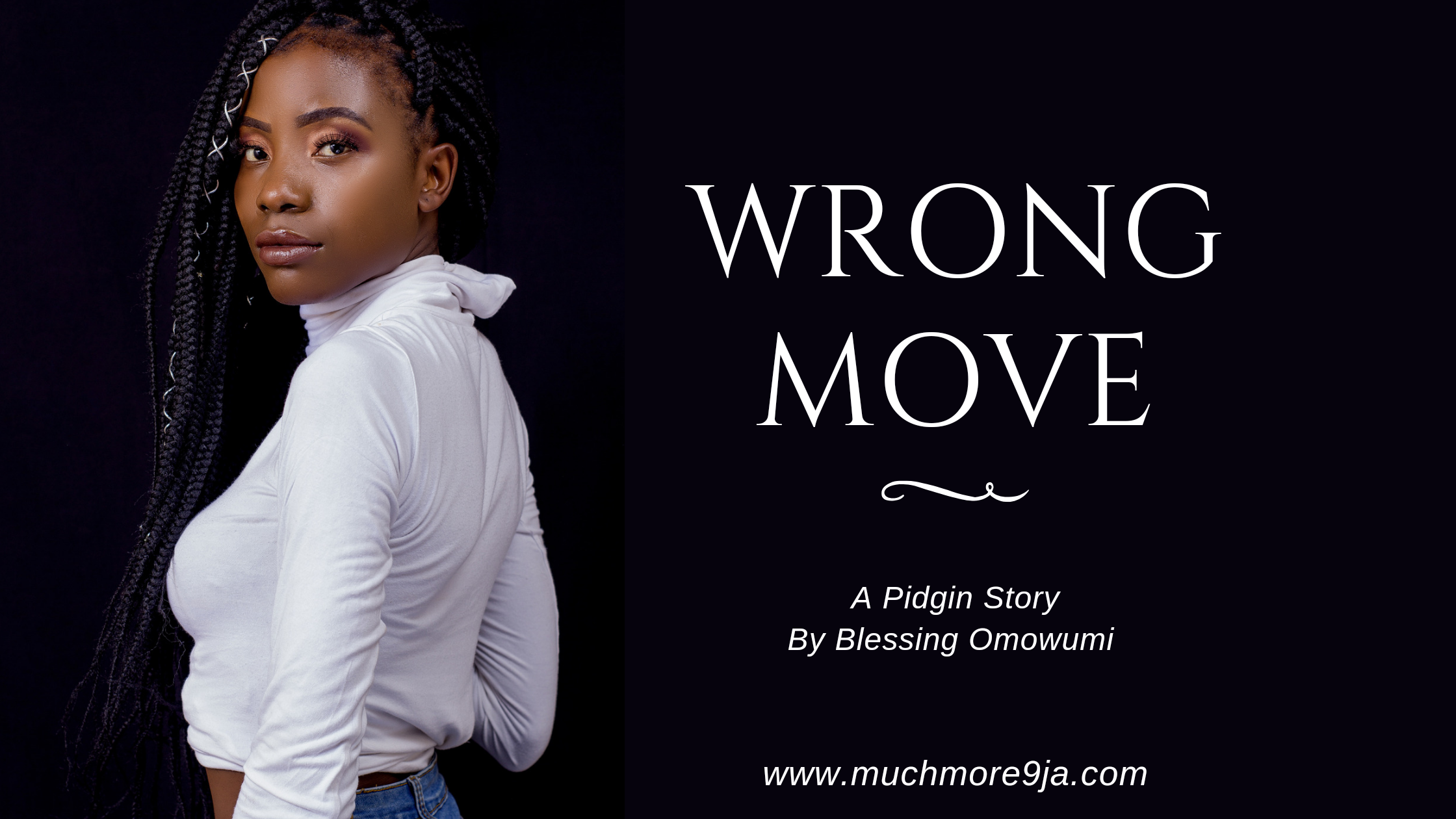 As I wan call Chichi, I carry my car comot for road go one side. She tell me say dem too don dey road and don almost reach there. I still ask if dem no forget anything, make we for no jonz.
I think say na the happy wey I dey happy as I follow my girls talk finish no allow me remember to even check road. I just start my car and enter road like that, naso I carry head knack anoda car head.
Omoh, my heart don comot for my body. I no even know wetin I suppose do, I just sit down for inside my car, dey shake. Naso person knock my window, he con use him hand do like make I carry my window down abi make I come down. I no even know wetin he mean.
I sha open door say make I come down, my leg no gree stay for ground as e dey shake. The guy wey been knock my window na him sharpaly hold me. He put me sit down back for inside my car as he dey tell me make I calm down say everything dey fine. I dey nod my head like agama lizard.
The guy still massage my leg for me make e for no shake again. When my body chillax small, na that time I come dey tell am sorry and I ask if I no spoil him car. He talk say I spoil the car small but make I no worry about that one first. The guy come say, as I don chillax say him go carry me go hospital. I say he no need, him no gree.
He say the shock fit go make anything sup later and e no wan make that one happen. I tell am say na me suppose dey do all these things when na me knack am. He say e no mata, say him dey fine but na me dey shock.
Naso the guy call him mechanic make dem come carry him car for here go repair am. He come collect my key as he help me go sit down for the other side. Naso he carry me go hospital. For the hospital, dem say I dey okay say the shock no go do me anything. Dem still carry drug give me make I use.
I tell the guy say I been dey go see my friends after him don ask me where I dey go. He come give me my phone say somebody been dey call me. I check and see say na Chichi. I call am back tell am say I dey come and I go tell dem wetin sup when I reach.
I thank the guy well well, I come say I go like pay the money wey him mechanic go collect to do him car. He say no wahala, make we dey go first, say my friends dey wait me. I no just know again. Which one be make "we" dey go again.
Naso the guy talk say him go carry me reach where my friends dey before him mind go rest. He carry me reach there true true oo. Na for inside the car I tell am my name come ask am wetin be him own name.
He say him name na Ola. As he carry me reach my girls side, I tell dem make dem help me thank the guy well well. I come give am my number make he call me when him don know how much him mechanic go collect.
He say make I no worry but I no gree. After he don comot, I carry the gist give my babes, everything wey sup. Dem too say the guy nice well well o, say e come fine join.
I ask dem say, "ehn ehn, him fine?" "Which one be ehn ehn him fine, you no see am?", na Chichi talk that one. "I no look am go that side o, be like say as e dey do me that time na im make I no look am well".
The day sha sweet well well. We play like pikin. Everybody talk him own gist. I gist dem on top Lolade Adetola matter, dem advise me make I rest till him call me.
My babes bin wan dey do me like egg as per say shock do me. I tell dem say nothing do me. I no go gree make one shock no gree me enjoy.
*********************************************************
I dey comot from work on Monday, na im my phone ring. When I carry the phone comot from bag, I see say na Lolade dey call me.
I no pick am. Me sef go do my shakara. Wetin happen, no be only him sabi no pick call.
He call me again, come send message when I no pick. The message talk say him go like make we meet for that place wey we suppose meet dat day.
He say make I call him, tell am the time wey go dey okay for me. When I reach house, I call am back, tell am say 8pm dey okay. He say no problem.
When 7:30 reach, I comot house dey go there.
Like say I don know, hold up just full everywhere. We don form two long lines, the line wey I dey no even move and the second line don dey move small small.
Person for even try enter the other line but space no dey at all at all. As the cars for other line dey move, naso one car move reach my opposite.
As I look the driver, na Ola. I no know when I wind down, shout him name. He look my side come smile as him too say my name.
I tell am say him no do well o cause he no call me since that day. If I know, na me for collect him number. So I go fit pay for him car repair.
He say make I no vex, say he been no wan disturb me. He say him go call me tomorrow, say make I trust ham this time.
Naso him line begin move again. Last last, my line still first him line free cause I still meet am for road later, tell him bye bye.
I don dey the place wey we go meet and Lolade never come. 8 never knack sha, so I sit down dey wait ham.
After small minutes don waka from 8, na him e show.
I been dey press my phone when person tap hand on top table so I go know say him don come.
As I look up like this who I see shock me oo. Who you think say Folakemi see?
I wan know wetin una think, for comment section.