NCYA 2023: Omotoso Abiola Sodiq – Breaking Barriers Essay (Winner)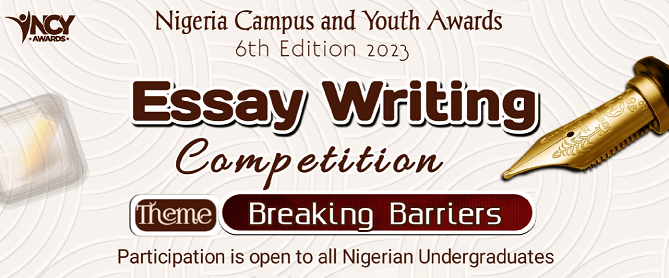 Omotoso Abiola Sodiq, a 400 Level Mechanical Engineering Student at University of Ibadan emerged as Winner at the 2023 Breaking Barriers Essay Contest of Nigeria Campus & Youth Awards 2023.
BREAKING BARRIERS WINNING ESSAY
Through the hardship and inexorable effort of labour during childbirth which marks the beginning of our lives, life has communicated to us that the road to success is tarred with pains and setbacks. The abyssal darkness of nights which precedes the illumination of days is conceivably a message to us that challenges will always emerge to test our mettle before the melodious symphony of success will be enjoyed. Consider the tale of the pioneer of general relativity and one of the best physicists who have stepped on the stage of life – The Great Albert Einstein.
Born on 14 March 1879, Einstein could not speak fluently until he was 9 years old. He was also expelled from school due to his defiant nature and was denied admission into the Zurich Polytechnic School; many would have labelled him a failure due to these major setbacks. Though the tides of adversity washed over him relentlessly, and every setback left bruises on his spirit, however; he remained unyielding and understood that life's journey is a gravitation between success and misfortunes. He later wrote his name in gold letters with his research works, earning him a Noble Prize in Physics in 1921.
If you still think there is a barrier that cannot be broken, then my little success story may help you rethink. Born to parents who never attended secondary school, I am the last child of my parents. Due to the poor quality of education in public schools in my village, my dad never wanted me and my immediate sister to attend a public school like our older siblings, yet he could not afford to send us to a private school. After a long wait for a financial miracle, he had to surrender to fate and allow us to attend a public primary school. I graduated from primary school as a 12-year-old boy who could not construct a simple sentence in English Language.
However, time could not make my parents' wish to give us a better education disappear; they obtained a loan to enrol us in a private secondary school in a neighbouring town. My first day in the school – The Intellectuals Academy – was one I will never forget. My sister and I arrived at the school after their assembly and went to our different classes; she was admitted into JSS 2 because she was already attending a public school earlier, while I was just starting my secondary school education. It was a new environment and no face was familiar.
This was not unexpected since it is a new school and a different town. However, it later dawned on me that a tapestry of great challenges has been weaved for me when I noticed that none of my new classmates spoke in Yoruba Language till the school closed for the day. The classroom became my permanent home throughout the week in my self-designed technique to avoid getting into conversation with any of my colleagues; you probably are wondering how long I was going to continue this. I could not avoid engaging in a conversation with my classmates and teachers forever, there was only one way for a chick to make it out from its hatching egg – to break the shell.
I developed an interest in reading English novels and books on grammar and before the end of my first year in school, I became one of the best students in English Language. I later graduated with distinction in English language in my West African Senior School Certificate Examination (WASSCE).
I believe it will make more sense to use my story to demonstrate the possibilities of breaking barriers and encourage someone to see shadows of challenges only as a symbol of darkness without considering that a shadow signifies that there is a source of light nearby. I lost my father when I was in JSS 3 in the year 2013. He passed on the day before I was scheduled to represent my school at the zonal level of the National Mathematics Olympiads, which was organized by the Mathematical Association of Nigeria (MAN).
My school's proprietor who was present at my father's burial on the day he died had initially instructed that I do not bother about the competition, but nothing would bring my father back, so I insisted on participating. Many people were surprised to see me in school uniform a day after his death, being conveyed by the school bus to the venue of the exam. I have lost my father and sponsor and the crying river will not bring him back, I knew his death was a declaration of war on my education and future.
As I battled with Mathematics questions during the competition, my mind was gravitating between the pain of my father's death and my desire to win. The exam was marked on the same day at the venue, and I was declared the winner of the competition in my zone. This win earned me a scholarship which took me through my secondary school; my father's death could have eclipsed me from graduating if I had not participated. That was not the end; my mother lost her well-being a few months after my father's death. She later died in the year 2017 after I wrote my Unified Tertiary Matriculation Examination (UTME).
She had initially become bedridden a year before she surrendered to death. It was the seeming end of my journey, the illumination of my motivation deemed and cast a shadow of sadness on my soul. I became lost in the sea of ambition; my aspiration absconded and left me behind.
However, I sought solace in the spirit of breaking barriers and remembered life is not going to be a yes-man to all our wishes. Today, I am in my penultimate year as an engineering student at Nigeria's premiere university – The University of Ibadan. Though I have a myriad of unaccomplished dreams, I have learnt that no obstacle is enough to even make the sky my limit, for I have dreams to fulfil beyond the sky.
Breaking barriers involves challenging the status quo and questioning conventions. The technological innovations that have transformed our world today are the aftermaths of the barriers broken by inventors. Before the invention of aero planes, the sky was believed to belong to birds only and was seen as a forbidden territory for humans. It was believed that the mighty grip of gravitational force was unsurmountable.
However, the strong determination of the Wright Brothers and their unwavering conviction changed the course of human history. Despite their countless failures in their quest to save humans from the manacles of terrestrial limitations, their will to bring their celestial conception to life subdued all barriers. Beyond the fast and easy transportation, it provides, the invention of aero planes is proof to humans that without challenging conventions and breaking existing barriers, we will be confined to mediocrity by our thoughts and beliefs.
To bring it all together, in our personal and professional lives, we will sometimes arrive at an ostensibly dead state. Nations in their attempt to achieve economic and national prosperity, businesses in their struggle to maximize profits, and humans in their endeavour to become something from nothing, will always get into the web of challenges.
Worthy of remembrance in situations like these are the words of Nelson Mandela,
"The greatest glory in living lies not in never failing, but in rising every time we fail."
So, while you may see people who are successful today as epitomes of perfection, they are minds that never give up. They are warriors who keep on moving after every challenge either with more energy or with bruises in their hearts, however; they never stopped moving. Breaking barriers requires resilience, persistence and the will to defy limits, shatter boundaries and transcend constraints.