Story: Wrong Move (A Pidgin Story) – Episode 5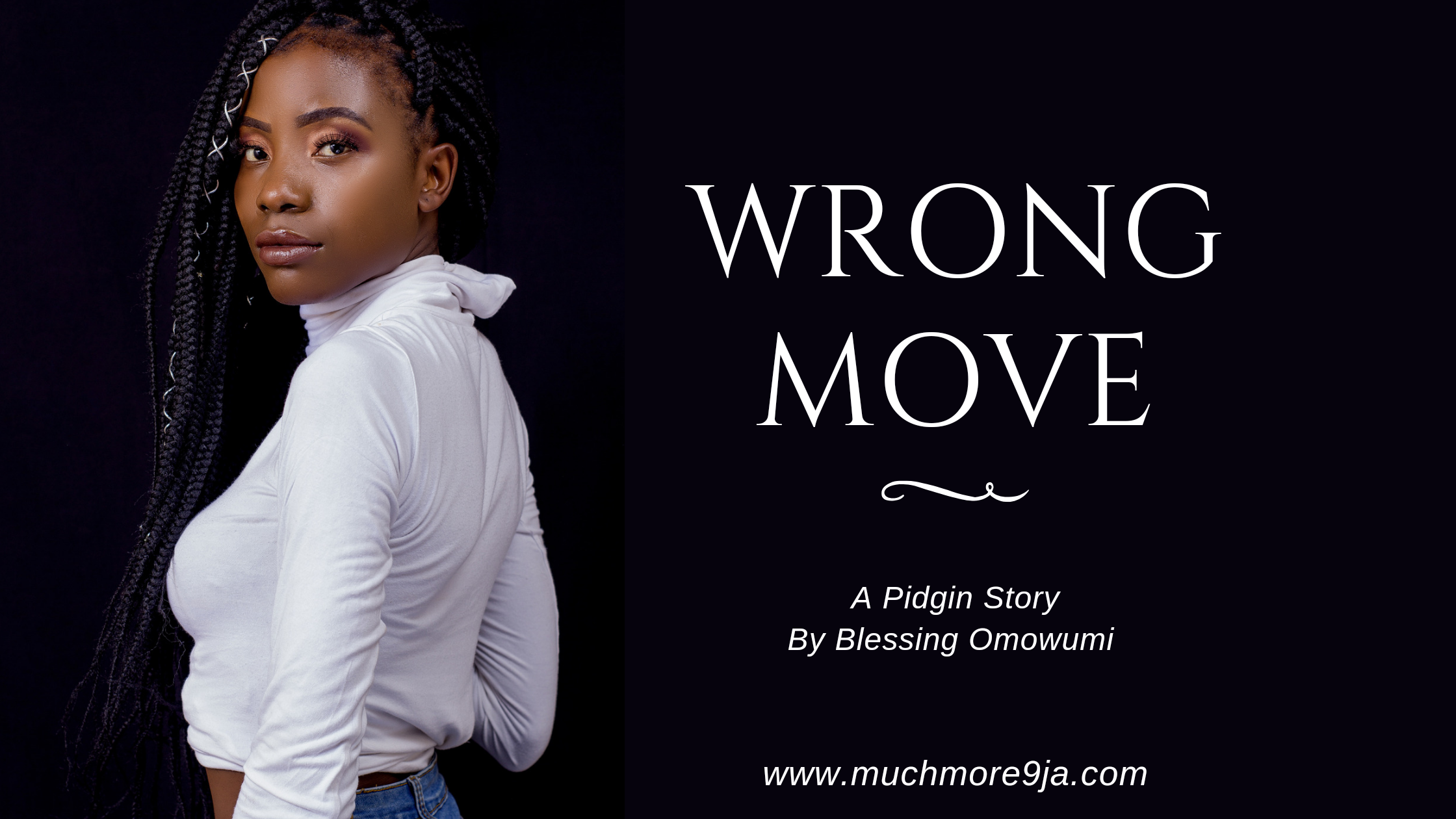 After small minutes don waka from 8, na him Lolade show.
I been dey press my phone when person tap hand on top table so I go know say him don come.
As I look up like this who I see shock me oo.
******************
As I look up, na Ola I see. I bin even think say na Lolade don show.
"Ahh, Ola, na you!… So na this restaurant you sef dey come".
E just dey look me, dey smile. I con ask am wetin happen, he talk say im no jus know say we go still meet for here.
He say him just enter here to come chop naso Him see me. He ask me wetin me dey do for here, I tell am say I come meet person for here.
"Your boyfriend abi?", na so Ola ask me.
"Hmm, no be boyfriend like that sha".
He ask me if he fit sit down till the person wey I dey wait for go come. I say no problem. We start to dey talk as I dey use one eye dey check door side if Lolade go show. I no even know him face oo.
This Ola guy na cool guy sha. We first talk about that day wey I use my car knack him car, I say sorry again still say thank you.
He say make I no worry, say he give am joy to do am. We begin talk about plenty plenty things as we dey chop the food wey we order.
I don even forget say I dey wait for person. The guy just dey make me laugh, he get one time wey food wan enter my head self.
Na now I just dey look am true true. The guy fine oo, be like wetin Chichi talk na true. Na dark color him get and he get fine face wey look like he go soft if person touch am. Him bearbear come add to the fineness.
He get round eyes and the inside of him eyes dey brown. When he smile, I sharpaly look him teeth, the thing set come fine well well.
After we don chop finish, still rest small, Ola check time and him talk am out say 9 don waka pass. I check my phone, see say no call abi message from Lolade.
Be like Ola see the disappointment wey dey my face, na why he talk say e be like the person wey I dey wait for no dey show again oo.
I gree with Ola, still tell am say na the second time be this so he no move me again. He say make I no too vex for the guy, say he go get reason why him no show up.
*********************************************************
Ola follow me reach my house because as time still dey, He wan make I follow him go another place, make we go chop dessert.
So I wan go put my car for house, make I still carry another small cloth put for body. Before we even think that one. We don dey outside the place wey we first chop and he follow me reach where my car dey as he wan tell me bye bye.
As we dey there, he carry him hand give me for handshake. As I shake am, he no leave my hand. He con ask me if we fit be friends from here.
Me sef don dey think am say I go ask if he no ask me. I say yes, we fit be friends.
He come leave my hand, put him own two hands for pocket, na that time he come ask me say, now wey we don become friends if I go like follow ham go another place.
When we reach my house, I ask am make e enter and sit down for my parlor, make I sharpaly go change.
The place wey e carry me go na one local joint like that, e no too far. Na suya, peppersoup, nkwobi and palmwine dem dey sell for there. The place make sense sha.
The place dey neat and dem no allow make anybody smoke for there. Na just normal grooving. Dem get live band wey dey sing all these appalla song for low-key.
Na nkwobi and palmwine we order.
Later, Ola say him wan dance and he stand up begin dance. E dey dance for my front. Omoh, how this guy take know say I dey like make person dey dance for me. I just dey laugh like Christmas goat.
E carry my hand, drag me come out say make we dance together. We follow each other dance well well before we go sit down back.
I tell am say this place really sweet me o and say I enjoy myself. E say him enjoy himself too and thank me say I gree follow ham come.
He come still say e don dey him mind to carry him friend come here one time. Say the time wey him don come here last na with him papa and e don be like ten years ago.
I come ask am why e be say na me wey just turn him friend today e carry come here, all the friends wey e don get before today nko.
E say make I no worry say I no fit understand.
We comot for that joint and him drop me for my house before e start to dey go.
He say him go call me, say him still get the card wey I give him that day.
We sha tell each other bye-bye.
Him call me later tell me say him don reach house. Him come still say him enjoy himself o. Me self come thank am as e be say na him save me.
Lolade be wan dirty my eyes as he no gree show up but as I dey with Ola, na him make make me no too feel am.
Sleep don dey carry me go after I don think about all the enjoyment wey I carry my eyes see today.
I no know about una o but me no dey sleep if I never think about many many things. Last last as sleep wan dey carry me go, na him one message enter my phone.
Sleep no even allow me check am…
Una well-done say you read reach here. Make ona follow me talk for inside comment section.
Who you think say send Folake message and wetin fit dey inside the message?