Story: Wrong Move (A Pidgin Story) – Episode 6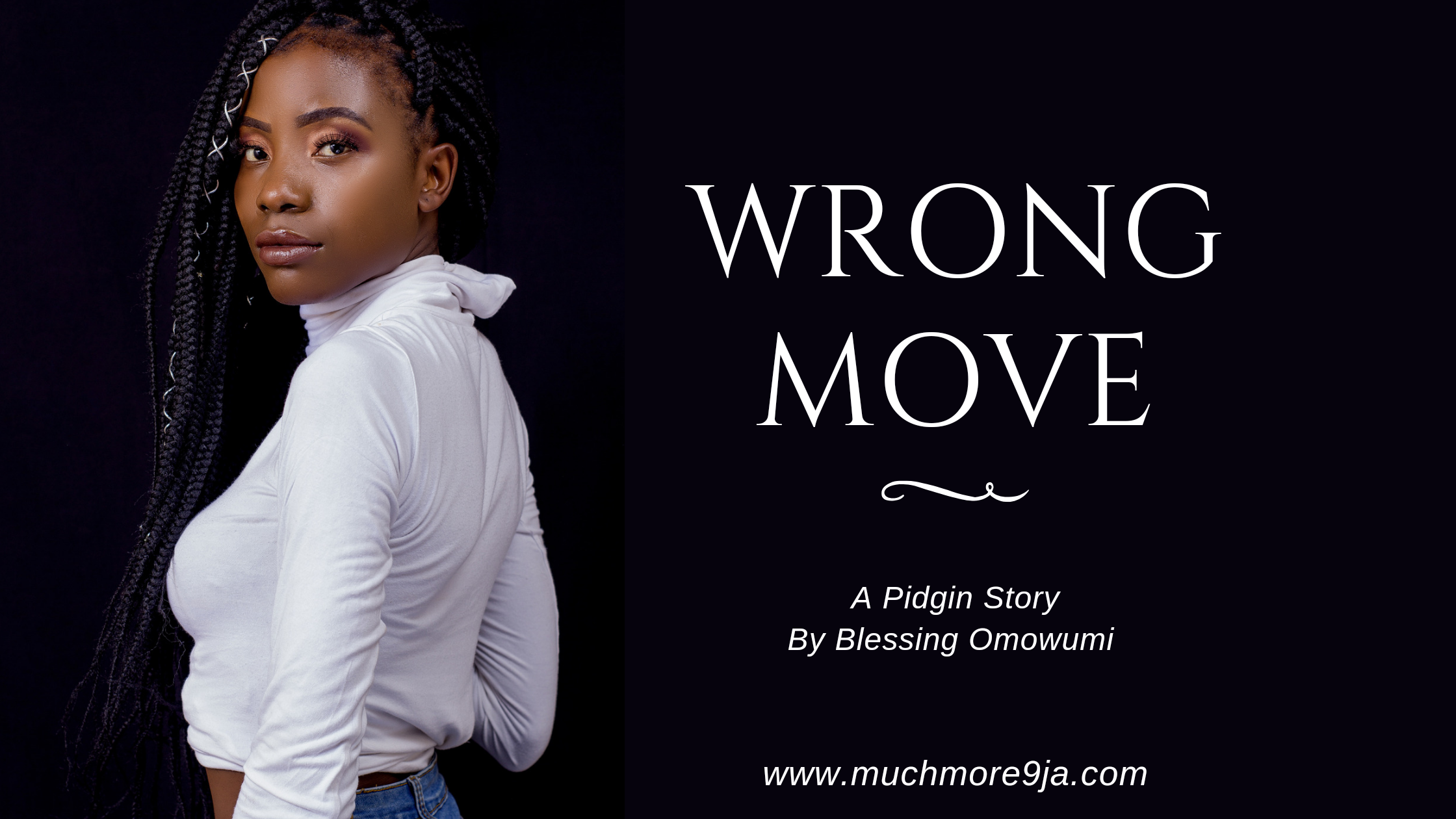 I dey work on the day wey follow wey be Tuesday. I been need some things inside my house and I tell the person wey dey always go market for me because me no like to dey go market at all. The wahala dey always dey too much.
I don send message with the things wey I wan buy give her, say make she sum everything come send me message to tell me how much dem go cost.
Na her message later enter as I dey busy for work. As I open the message, na so I come see say I bin get another message wey I never open.
I open am, see say na Lolade send am.
For inside the message, he talk say him no wan meet me again, say him no dey for all the arranged marriage wey our two papa dey do. Him come still talk say him go find how to follow him papa talk make he for forget the matter, say if him papa agree my papa too no go get choice again.
I no know how this message take be for my body. I dey happy for one side say the arranged marriage palava go finally end.
For another side, I dey vex. I no know if na because the Lolade guy don stress me much ontop wetin he suppose don talk since say e no do abi na because say him no even show face at all.
Anyhow sha, e still good as the matter dey go now. The main thing be say make e make him papa gree.
I carry my hands put for air as I dey happy. God I thank you oo.
*********************************************************
Lolade POV
Lolade don go talk to him papa say e no wan marry Folake again and the papa no wan even reason the matter. The papa talk say wetin him don talk as per say na Folake e go marry, na him be final.
Lolade self talk say e no fit happen, say him no dey marry again. Say na person wey him love him go marry.
Na Lolade mama dey try stop her husband and son make dem for no fight. As she dey beg her husband make e calm down, na so she dey beg her son make e stop to dey follow him papa talk like that.
Last last, Lolade comot from house with vex after him don tell him mama make she follow her husband talk.
E enter him car, carry am comot.
As him reach outside gate, e come park, carry him fone call him friend. Tell am say make dem meet somewhere.
*********************************************************
Lolade and him friend dey for where dem dey always chill.
Dem don order for drinks as dem dey talk.
Lolade friend's Jude: So guy, wetin happen. Why your face dey strong like that when you come.
Lolade: I enter fight with my popsy jare. And I just vex comot for house.
Jude: Wetin happen na?
Lolade: Na ontop the arranged marriage thing o.
Jude: Ah naso, you talk say you wan meet the girl. How far how she be, she dey okay?
Lolade: Matter don even pass that one. I tell popsy today say I no dey marry that girl.
Jude: Ola, how na, I think say una don agree na.
Lolade: Sheybi you remember that girl wey I tell you say bash my car that time.
Jude: Yes na, that girl wey you talk say she fine well well and say na you still dey tell her sorry still carry am go hospital upon say na you dem bash. *Laughs*
Lolade: Yes oh, that girl. Na the girl my popsy wan make I marry I go meet, na that fine girl I meet for there. Na the same girl my popsy dey arrange for me.
Jude: You say wetin?. Omoh, guy, God don butter your bread be that na. Why you come still say you no dey marry again?
Lolade: I no let the girl know say na me she dey wait for that day o. I just do like say we just happen to jam for the restaurant as per the guy she bash that day. She come dey wait for me again as per the arranged marriage guy.
Jude: So like this now, the babe no know say na only you be the two person.
Lolade: Yes, we don even become friends. I just dey think say if I tell her say na me be the guy wey dem wan force her to marry, e go spoil things. Abi wetin you think?
Jude: Hmm, I dey feel you. I know wetin you dey try do, you wan make una build something base on natural feeling. E no bad, but you go dey lie give her na, you no go fit tell her who you be true true.
Lolade: I know but I go just hide some things, no be say to lie like that sha.
Jude: I feel say make you just carry your popsy along. Make e for no dey disturb you, him go don know say na still the same girl.
Lolade: I no fit tell am. If dem know, dem go wan still put body and I wan make e be just me and her.
Jude: No yawa, that one self good na. I dey with you my guy. E just be say, you go try follow your popsy talk on normal level, make you for make am cancel the wedding.
Lolade: Yes oh, since the rough way no work like this, na to use another way o. Thanks my G.
*********************************************************
Folake POV
Folake siddon for inside her room dey work on top her lappy.
She dey reason to herself say this work wey she carry come house no dey necessary oo but as she no get wetin she go carry her time do today na.
Wahala for who no get boyfriend o, shey she for visit him abi something.
'Relationship sweet sha but that one na for who get luck', Folake follow herself talk.
As she talk that one, her mind carry her go back to the relationship wey she enter last. The guy na woman beater…
He dey always beat her ontop even small matter.
Dem been dey stay together that time and na because the guy say if she no wan make the relationship burst, make she dey come stay for him side.
If she know, she for no go. She been think say if dem dey together, e go make their love to dey strong wella.
She dey always make the wrong move, anything wey she do always turn bad.
Her phone wey ring na im bring her back. She carry hand rub her face because she don already wan dey cry as she dey think everything wey she don go through.
Na Ola dey call her, she dey look the phone as e dey ring. For her mind, she dey think if whether she for pick this call.
She dey think if she dey ready to do another relationship. She dey fear say how the future for she and this Ola guy go be.
If she answer this call now, e mean say she ready.
If she no answer, e mean say she no ready.
She no know which one to do. She dey fear if the one wey she pick go turn wrong move again.
Una wehdone say una read reach here.
Wetin you think say she go pick to do?
Wetin you go advise her to do?
Episode 7 dey come.