Nigeria Campus & Youth Awards 2022 Awards Nominees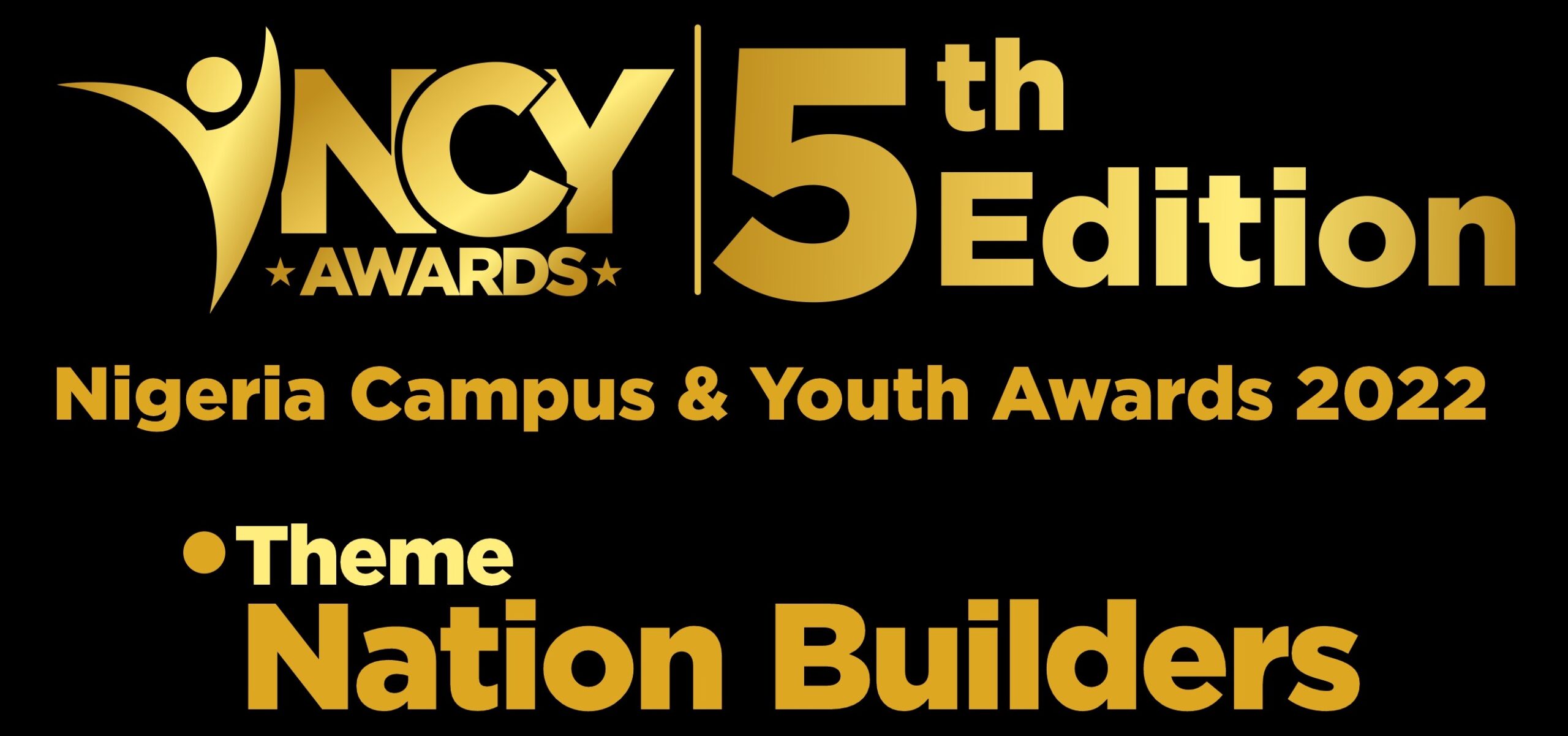 Behold the Nominees for the Voting Categories of the 5th Edition of NCYAWARDS!
Congratulations to all nominees, Voting commences online at www.more9ja.com/awards from June 20th 2022.
CAMPUS CATEGORIES

:

Best Artiste on Campus
LECKSON DG – MAPOLY
RAZER LOMO – LASU
TOBILESH – MAPOLY
Best Comedian on Campus
BOBO COMEDIAN – FUOYE
IGOLAFF – FUNAAB
STREET PROFESSOR 1 – FUOYE
Best Graphic Designer on Campus
ALAUSA SULAIMON OLUWATOBI – LASPOTECH
REALKAYBEE – UNIILORIN
Best PR on Campus
AKINYEMI MARVELLOUS – LAUTECH
DUROWOJU MUJEEB – LASPOTECH
FUNAAB MOUTHPIECE – FUNAAB
Best Student Representative
HON. OLUFEMI OYEBOLA – MAPOLY
OGUNMODEDE BRIGHT – EKSU
OMOARELOJIE FAITH – FUO
Best Writer on Campus
AKINGBONDERE BABATUNDE DAVID – AAUA
IDINYE EWEHA FAVOUR – GAPOSA
JIMOH ABDULLAHI – UNILORIN
MATHIAS JOSHUA VLAAR – UNIBEN
Campus Blogger of the Year
ABOBARIN OLALEKAN – LAUTECH
BOLD CONCEPT – MAPOLY
FUPRE GIST – FUPRE
HEMJAY MEDIA – LASUSTECH
VICTOR ALOKAN – FUOYE
Campus Model of the Year
HAPPINESS OGAH – JPTS
MACDERA NWAEZE – UNIBEN
Charismatic Leader on Campus
ABDULRAHEEM MUHAMMED OLAREWAJU – UDUSOK
MOSAKU KEHINDE (ADAMS) – MAPOLY
OSENI U. AJIBOLA – GAPOSA
Enterprising Student of the Year
ADEWUNMI AKINGBOLA – LASU
AFONJA BOLANLE PELUMI – EKSU
COMR. OMOROSE LUCKY OSARUMWENSE – FUO
SODIQ AJANI (OPTIMUM) – MAPOLY
Miss Personality
BAMGBOSE BUSOLA – LASPOTECH
IKOAWAJI UWUITAISUK (AIKHEY) – UNIBEN
OLUWOLE PRISCILLA – GAPOSA
OMOARELOJIE FAITH – FUO
Most Creative Student
ABDULWAHEED SOFIULLAHI – UDUSOK
ADESHINA ABDULATEEF IDOWU – GAPOSA
COMR. RICHARD EMMANUEL IFEANYICHUKWU – FUO
JOSHUA MATHIAS VLAAR – UNIBEN
SEYI OJELABI – LAUTECH
Most Influential Student
AYOMIDE ABIMBOLA BELLO – FUOYE
COMR. ALAGAIBILE OYEBOLA – GAPOSA
JESUDARE JESUNIFEMI JOHN – GAPOSA
SULAIMON ABDULRAZAQ LEKAN – MAPOLY
Most Intelligent Student
AMINU OYINDAMOLA ANUOLUWAPO – MAPOLY
ELETA BLESSING DAMILOLA – UNIABUJA
ILORI OLUWATOBILOBA – LASPOTECH
Mr Personality
ADEJUMO OPEYEMI – LASPOTECH
PAPPY JAY – MAPOLY
Talented Artiste of the Year
ADEDIRAN SUNDAY – OYSCATECH
FASHY PIZZLE – MAPOLY
YDN JUISE9NE – AAU
YOUTH CATEGORIES:
Best MC of the Year
ANIMASHAUN ADEWALE AYOMIDE (MC WOLLET)
MC SHEBALESE
Best Writer of the year
BOLUWATIFE ODEYALE
IWAKUN TAIWO
MUYIWA WOMILOJU
OSAS IDUBOR
Blog of the Year
9JACOMPASSNEWS.COM
9JADAILYFEEDS.COM.NG
PLAYSUBTLY.COM
CEO of the Year
ALAKPA OBARO MICHAEL
DONALD AKPEH
FOCUS ENERGY RESOURCES
MATTHIAS ALLEN GOLL
MUDASHIRU RIDWAN AKOREDE
Entertainer of the Year
ADEBAYO AYODEJI
AKACHI NWANERI REDEFINED
DJ AEBOLA SMASH
JAYZ-U RAPMINISTER
OKE SOLOMON
WYZEBOYLGM
Entertainment Brand of the Year
HOMIE ENTERTAINMENT
KHOOL HYPEMAN NATION
Entrepreneur of the Year
ABIODUN RASHEED .O
BANJO TAIWO OLUWASEUN
BELLO WALIU ADEDAMOLA
DE EXCELLENT LOGISTICS
Fashion Designer of the Year
ADELEYE OLADIMEJI
SAMUEL AYOMIDE
Gospel Artiste of the Year
FOLAGBADE ADERONKE BLESSING
HAPPINESS OGAH (MEEK STAR)
Graphic Designer of the Year
EMMY GRAFIX
SAMORA DESIGNS
Most Creative Youth
ADEKOYA OLUWASEGUN JOHNSON
NIZZY ARTWORK
OMITOGUN JOSHUA ADESHINA
Most Industrious Youth
ABDULKAREEM OLAYINKA HAFEES
MORAKINYO FREDRICK SOLEDAYO
OKORO OLILEANYA DAVID
OWOLABI BOLAJI
Most Resourceful Youth
AGWUNA FAVOUR OBIANUJU
ODUTOLA FEMI
OJO MOSES ADEWUNMI (AREMO_WEALTH)
OLABIYI SAMUEL
NGO of the Year
KRYPTON INITIATIVE TEAM FOUNDATION
LEAD COMMUNITY FOUNDATION
MUDASHIRU RIDWAN FOUNDATION
USAFE (UNITED STUDENT ASSOCIATION FOR EDUCATION INC.)
Personality of the Year
ODUFADE OLADIPUPO
OSENI AFEEZ OLABOOYE
UFELE CHRIS
Photographer of the Year
HOMMY PHOTOGRAPHY
OMASANUWA ESEOSA
Political Activist of the Year
ABDULLAHI ADEBAYO SAHEED
SULAIMON IBRAHIM
Youth Leader of the Year
ADEOLA OYERINDE
CONFIDENCE MAYE
PETER PELUMI OLADEJI
VIVIAN ONWUDIEGWU
Youth-Led Organization of the Year
EDVOLVE FOUNDATION
HADIAT NATION
THE GIRL CHILD INITIATIVE (GCI)
Free & Fair Voting commences online at www.more9ja.com/awards from June 20th 2022.
For partnership, sponsorship and other enquires, Please Call or WhatsApp +2348100524026