Story: Wrong Move (A Pidgin Story) – Episode 1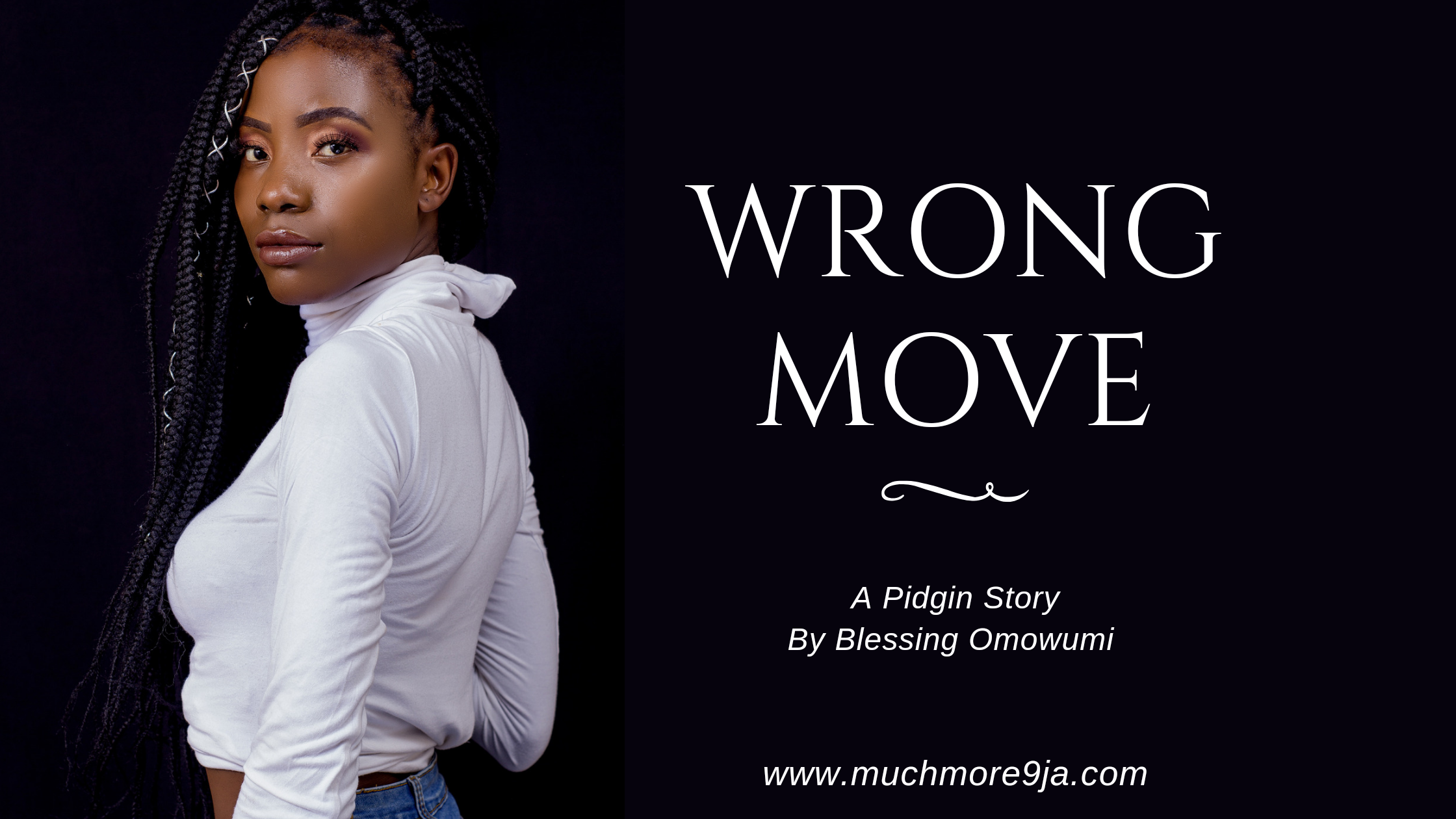 Tunji na my boyfriend. And the day everything burst na the day our relationship reach 10 days. Inside that 10 days ehn, everybody for my side, na him don know Tunji. We dey make noise with the relationship and e get why.
How we take meet sef, e get as e be but I no care. As I talk say I no care now, you go wan think say na because of love. Abeg no be because say I love ham o.
Sha, I dey my room dey prepare because I dey carry Tunji go see my papa today. My papa don know am, I don tell my papa about Tunji, and I show am him picture too but dem never see before.
As I wear cloth finish, I check time and see say Tunji don dey late. I come dey reason wetin dey do this guy. We suppose don comot and me no even like make person dey use African man time. I dey always dey turn up for any parole before the main time reach.
As I sit down, dey look my beauty for inside mirror. Omoh, I fine oh, how one person take carry plenty fineness like this. My mind waka back to the matter say Tunji never still show. Make this guy no go spoil things for me na.
I carry my phone make I call am, know wassup because I no wan vex like this, make my mood no spoil. Person wey wan go act for him papa house suppose go with fine mood. As I wan dial him phone, na him my phone ring, na Tunji dey call me.
"Hello guy, where you na", I said as I pick him call
"Hello madam, you know the person wey own this phone?"
"Yes and who be this, give Tunji phone abeg"
"Madam, Tunji dey police station as we dey talk and e talk say you be him girlfriend, na why we call you so you go come know wetin e do"
"Police station?. Wetin happen?"
"If you wan know, come Agaga police station", he talk and cut phone.
Omoh, which kain wahala be this na. Na today wey we get appointment Tunji see to dey police station but wetin e do sef. I sit down, begin reason wetin I go tell my papa as per why we no fit come again because police matter no dey do quick, e no be like say we go fit go again.
But wait first, why Tunji tell dem for police station say I be him girlfriend. Abi Tunji dey craze? Make e no be say him dey expect, make I come bail am abi wetin. Na there he go old.
I comot the dress I don wear, clean the make up and carry another cloth put for body. Omoh, I no fit deal with my papa issue like this, I kukuma carry my phone, off am.
I enter kitchen, make I go find something wey I go chop. I know say I never tell una anything about me but I go give una tip, I like food. I be foodie, I no dey carry food matter joke. Na beta food I dey chop sha o, I no like anyhow food and I be beta cook so everything plum.
The following day na Saturday, my papa wan see me. I later on my phone back for night and na immediately my papa call enter, e no shock me, I know say e go don dey call me since. Anyways, I dey go my family house. Everything wey I go talk for there, I don rehearse am.
As I reach my papa house, I met am for the private sitting room. The way him keep face, person go know say e dey vex. E sit down for inside him big parlour, e bin dey watch news before I come.
"Good morning papa" E no reply me, e just dey look me with 'I dey disappointed in you' look. As I wan start to dey explain myself, na so the gateman burst enter, talk say some people wey wear black black dey outside.
My papa stand up to go check and I follow am. The pipu wey the gateman talk say dem wear black black na police.
Officer: We greet you good morning Mr Daniel Oni
My papa: Una good morning officers, how I fit help you.
Officer: Abeg, your daughter Folake Oni go follow us reach station. You fit follow us if you wan know wetin she do.
Make I no prolong matter sha, naso police arrest me. Dem say I be Tunji partner in crime.
For police station, dem ask me plenty question and I been even dey confused. But dem talk say na ontop Tunji matter, na so I open mouth talk everything wey carry me and Tunji join body.
I met Tunji for one supermarket, I catch am as e dey put one expensive wine inside his crossbag. As I wan raise alarm, e start to dey beg me. And as I dey desperate at that time, I just talk say I go shut up if he go gree do something for me.
Naso our fake relationship take start. I been dey find who go pose as my boyfriend because I no wan marry the man wey my papa wan make I marry. I think say if I get boyfriend, wey our love be like say e sweet and strong, my papa go comot hand for my matter.
Naso I carry person wey I catch as e dey thief, take dey do boyfriend for show.
Wetin I been no know be say Tunji na big time arm robber wey police people don dey find. I open mouth, I no fit close am. I know say how we take meet get as e be but I no expect say e go be wanted criminal like this oh.
How I go take comot from this mess? Na wetin arranged marriage do me be this.
Make una put mind for episode 2.
How you think say I go fit comot for this wahala? I go like hear from una.