Story: Wrong Move (A Pidgin Story) – Episode 2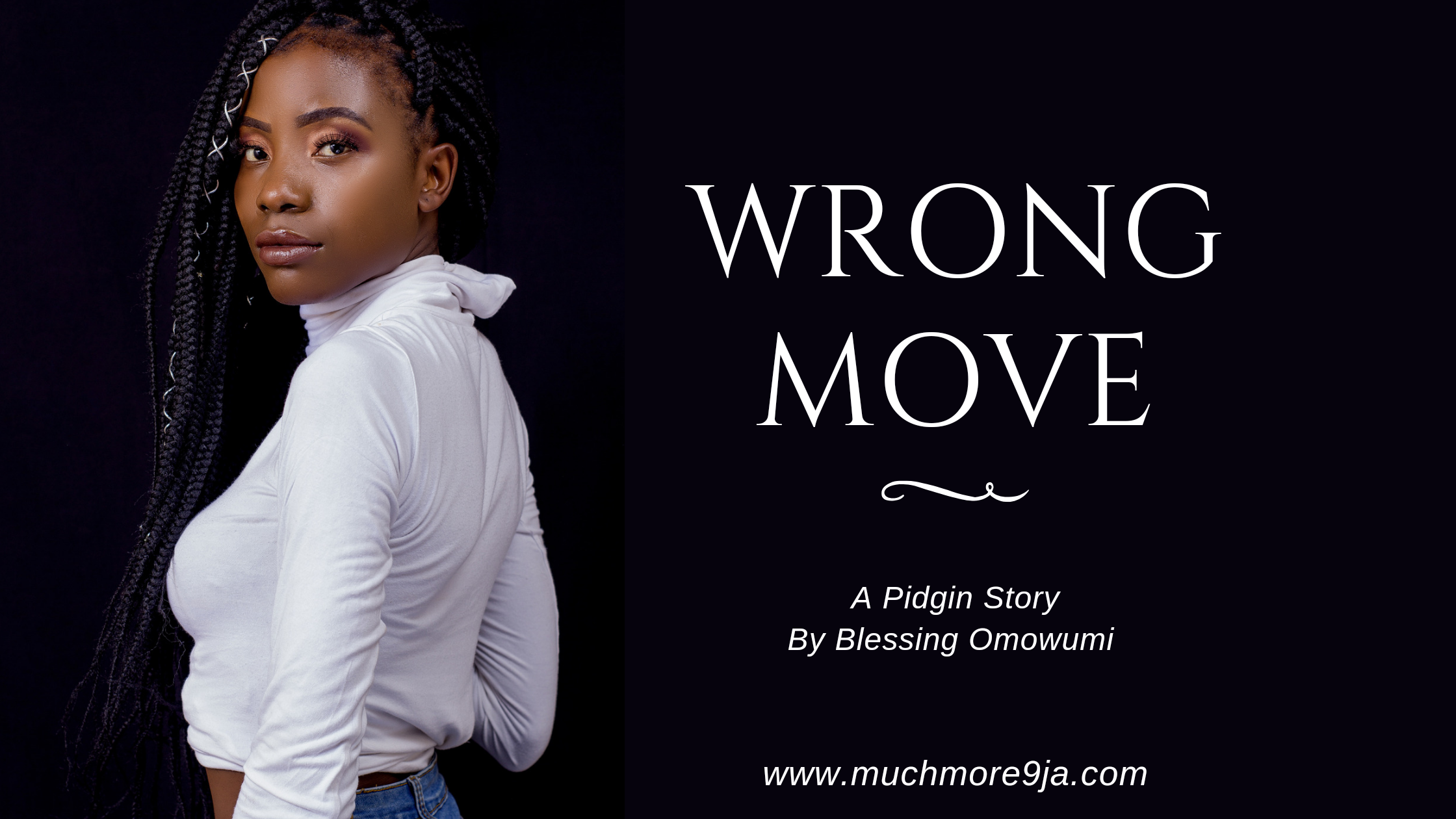 My papa follow us go police station that day. I just dey look from officer face go my papa face as dem dey tell am say na Tunji confess to them say me and him dey carry gun. Dem ask my papa if he know Tunji and he talk yes, say na him daughter boyfriend. For my mind I dey shout God forbid.
Dem show Tunji pix to my papa, tell am say na wanted criminal him be. Say yesterday, e go thief for one local government chairman house, na for dere dem catch am. Dem ask me to talk, I say I wan see my lawyer first.
Later, my papa dey follow me reason… "Bukola, wetin happen. How your boyfriend take be thief"
"He no be my boyfriend. Papa, everything wey dey sup for here, na you cause am oo"
"No be your boyfriend?. No be him you wan bring come my house yesterday?"
"Na him"
"He be like say you wan sleep for here"
"Wait papa, you go leave your only daughter make she sleep for police house", e shock me
"As you no wan tell me as the thing be, wetin you want make I do"
I sha explain everything give my papa as I hire Tunji for fake boyfriend. He no wan believe him ears.
I side myself, tell am say the Tunji look normal and presentable that day, I been think say the wine theft that day na just normal small fuccup. Last last, my papa say if I wan make e help me comot from here, na to marry who he wan make I marry.
I said lailai, make he forget am. I go kukuma rot for here if to marry one old man be my only outside way. No be the matter carry me reach here before?
"Which old man you dey marry", na my papa dey ask that one.
"Na old man, abeg no whine me, no be you wan force me to marry your old friend",
"No be my friend na, na him son Lolade na"
"Ehn ehn, I bin think say na the old Mr Adetola you dey talk self. Still, I no fit marry person wey be say na you arrange am. I go find my own man when I ready"
"The guy na young person o, e no fit senior you with pass 3 years, and na good boy. I know say my company go gain inside the marriage but if the guy no good, I no go do am", my papa dey talk, I dey think am for my mind if make I just accept first and comot from here, I go no how I go do the matter later.
To dey decide matter when I dey desperate, na him go kill me."Okay, I don hear"
"Wait", he talk and carry him phone begin record me. "Oya, talk am again"
This old man too dey smart pass wetin I like. "I don hear, I go marry am"
"You go tell the officer, everything you don tell me as the matter be, so I go put small leg and you go dey free but you go sleep for here today. That one na for the lie wey you lie give me"
The day wey follow, dem release me from police house, after I don tell dem truth as per how I hire Tunji for fake boyfriend. Dem ask Tunji with torture and he confess too say na because I no gree show face when dem call me as him girlfriend, na why he lie say we be partner.
Dem say if dem need ask me some other things I go come back. Before we comot, I say I wan see Tunji and dem waka me go him cell. As Tunji see me, he comot face, dey pretend say him never see me.
"Tunji, I no know say you be big time thief like this, na why I carry you do my parol but wetin dey pain me be say you open tell police people say I be your partner in crime", I para give am.
"When I say make dem call you as per my girlfriend, why you no show face. Na wetin vex me talk that one be that".
"You no try oh"
"Abeg no vex, biko forgive me. When dem go release me too"
"Why you dey ask me that one. No be you know wetin carry you reach here"
"Ahh, but as dem don release you, no be so dem go release me join"
"Because say na same thing carry us reach here abi I be wanted criminal like you abi wetin"
"Babe, no tell me say you believe wetin Dem tell you. Dem dey lie o, I no do wetin dem say I do"
"First of all, no let me hear you call me babe again. Normal normal, na only when we need act the relationship matter I dey allow you call me babe. So wetin sup?. Also, the deal wey carry us join body don end for here so abeg, I no know you again"
"Abeg no do me like this. Help me follow your papa talk abeg", Tunji dey beg me like so, I comot for him front. I no know the guy problem, he never do say you talk say I be your accomplice.
*********************************************************
As I reach house, I first carry hot water take baff, if dem talk say I go sleep for police station for my life, I no fit believe. You self go don dey look me like one person wey like trouble. Omoh, no be so. I no dey like that.
I no even see chance to tell you who I be. My name na Folakemi Oni. I be the only child of Mr Oni Daniel. I for no be the only child self, but the boy wey my mama born after me, be like say na force dem force am from heaven because na immediately he land here, na him he don go back.
I don dey this life since 28 years ago. I dey fleshy, round and shape with better figure, I come get chocolate skin join. Normally I dey turn heads. But I no dey ever dey fortunate in relationships. I dey always see shege for inside relationship. Since two years ago, na him I don comot my mind from anything wey concern relationship matter. E no easy but as the matter don be, na to cover my sanity with the blood of singleness sure pass.
The number one relationship wey I enter, na when I dey seven years old. No be like relationship like that but I been like the boy that time. The boy na my senior for school, he dey primary 6 and I dey primary 4 that time. I dey always find wetin go carry me go him class. Make I just see him face.
Na SS2 I dey when I enter my first real relationship and na for only two weeks because na because say the boy like my friend, he carry style use me get close to my friend. And inside that two weeks, I don do plenty things for am. Omoh, the rest na story for another day oo.
As I bath finish, I call my popsy, make he send that guy details give me and he send am sharp sharp.
I called the guy;
Me: Hello. "Uhmm, I'm Fo….", I wan talk when he interrupt me.
Guy: I told you not to call me anymore and you still went ahead to use a new number, right?. I'm done with you and that's final. Don't you dare pester me anymore!!!!
Naso the guy shun me for phone. I just open mouth like which kind wahala be this. He no even allow me talk before he cut call. Omoh, me and this guy go get problem oo. Be like he get anger issues, come be womanizer join.
I kukuma send am message as I no fit call again. I write am for there say na me be sososo and I wan make we meet and talk. He message me back with date plus location. Omoh, my shock dey shock. How guy go dey pick date and location for girl. The guy just rude but no yawa, he go meet me for front….
Thank you for reading!
How you think say our first meeting go be? Make una comment and say wetin you like so far
(Wetin go happen next)