Story: Wrong Move (A Pidgin Story) – Episode 3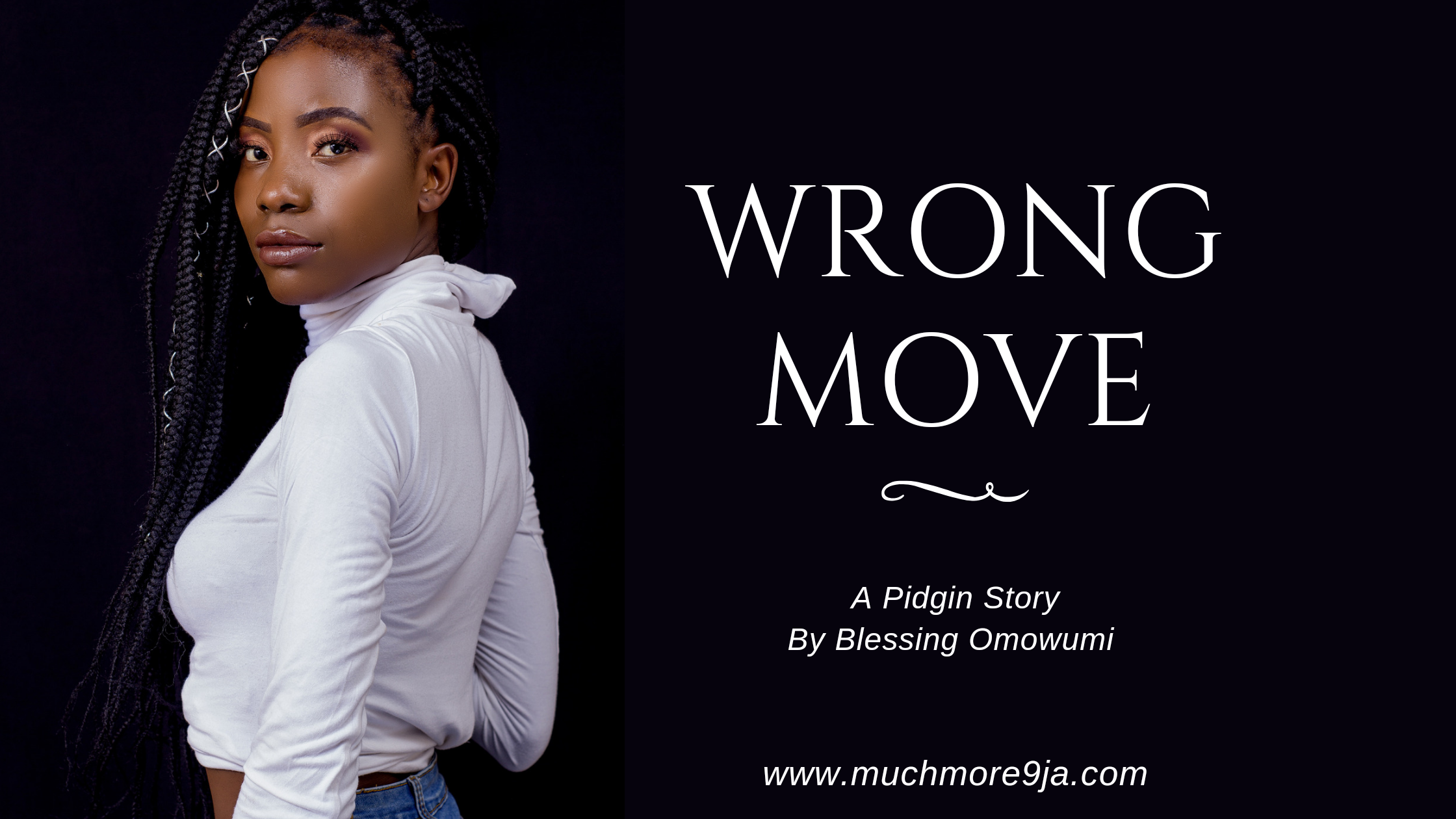 I go show this guy today, say e no go well as him pick time wey we for meet, still pick where we for meet join. If no be say I wan make we jam each other sharp sharp make I fit know wetin be next, I for no just show. But as e be like this self, no yawa.
I know say I talk say I dey always quick turn up for any parole but that one no fit happen today. I go tey for house well well before I comot. That guy go wait me tire today. 30 minutes don waka pass inside time wey we suppose meet. Ehn ehn, I fit come dey go now.
Omoh, this guy dey craze, nothing wey anybody wan tell me. As I tey for house reach, that guy never still reach here. Person wey I been think say go don dey vex say I no quick turn up. E pain my ego but I still carry my phone call am, make I ask wetin dey sup. I don kukuma reach here, wetin I go do na. But the guy no still pick call.
I swear, only me know the kind vex wey I dey vex like this. I carry the vex dey go my papa house, na him dey carry my eyes dey see all these yamayama. Time don go and my papa for don sleep but wetin be my own. Pikin wey talk say him mama no go sleep, him self no go smell rest.
I burst enter him room as I reach him house. I don meet gateman and him girls wey dey do house work for outside, dem dey tell me say oga don sleep but I no even answer them. As I burst my papa room door open, he run wake up and siddon, he don shock. I no even care, I just dey, carry my two hand join together put for under breast.
Make ona no blame me, I dey vex.
My papa clear eyes, come see say na me. He ask me wetin happen, why I dey do like person wey don shayo.
"You see wetin you dey carry my eyes dey see so. Your friend pikin wey we suppose see today, him no show, e no pick call. You for just allow me dey my dey, I no dey like all these kind parole"
"Na why you con burst enter here like this, You no see time. Carry my phone for there give me joor"
My papa first call the guy, him no still pick. Him come call the papa, that one pick but na him secretary talk, him say papa Chibuzor don faint and dey hospital with him family where dem dey treat am.
Mtcheeew, I no even know say palava don sup for him house na why him no show, still no pick call. Sha I don leave my papa house. As e dey para for me say I suppose calm down, I tell am say I no know na. How I for know wetin dey sup for where I no dey.
My papa tell me say, na why e no good to dey vex give person wey you never see or wey you no know wetin dey happen for their side.
No yawa, I don learn new thing. I go put am for left hand, make I for no use am chop.
*****************************************************
Two weeks don waka pass since that time wey me and that guy suppose meet. He never still call me talk anything. And I no fit call am, as e even be say the papa dey sick. Him papa na my papa friend true true but e no get anything wey don make me and the man follow yarn before, na to just greet am if I see am with my papa.
I for like tell you say I dey cool as the marriage saga don dey on hold like this but make I no lie give you, the thing bin dey worry me. Yunno na, if person talk say im wan tell you something come say na for later. You know as your mind go dey there as you go dey think am say wetin e fit be wey him wan tell you.
Na so I been dey. I just dey think say how e go be when we later jam, if e go be person wey I go like abi if him go like me. I don even put him name for Google, nothing show.
Last last, e still go well for me as e be say na for dem side the hollup take happen. If to say na me dey cause am, I know wetin my eye for don see for my papa hand.
Buh as e be say nothing wey I fit do, na to jus chillax o.
As all that one dey go on, all the work palava still dey there. Work benn dey choke me but I like am like that o. E dey bring money and I like kudi, ego.
Na why be say, this Saturday, I dey go chop life. We dey go beach. I don miss my babes dem and today go too sweet, gist for don plenty for everybody hand.
Because say I dey carry my motor comot, I kukuma put my bikini for body, I con put one long jacket join.
I don dey like half road when I remember sey I suppose call Chichi, say I don already dey road. Dem no go do quick and come, person go just dey go wait for them.
Make una drop comments and put mind for episode 4.