NCYA 2023 Essay Writing Competition: Call for Submissions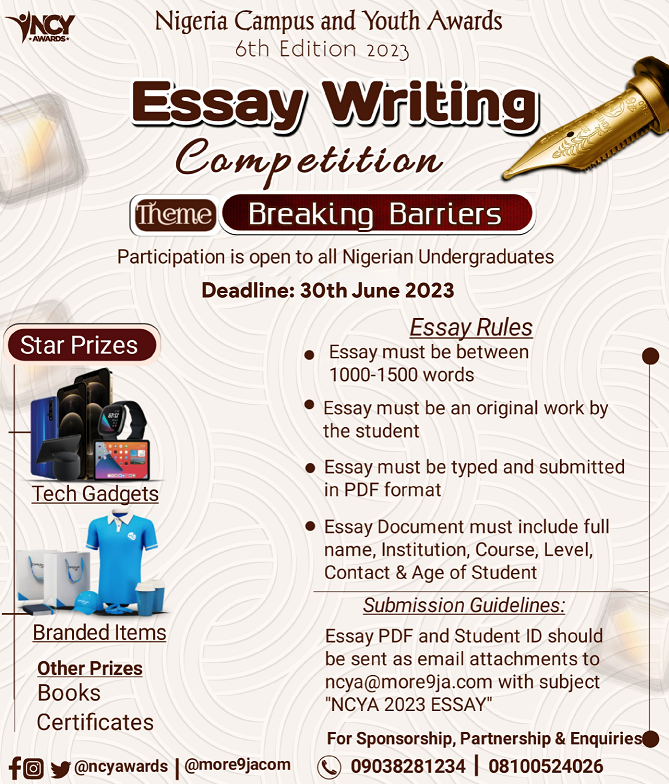 Are you a Nigerian undergraduate with a passion for writing and a desire to showcase your creativity? Nigeria Campus & Youth Awards (NCYA) is pleased to announce the call for submissions for our 2023 essay writing competition!
Nigeria Campus & Youth Awards (NCYA) is an annual event that recognizes and celebrates the achievements of Nigerian undergraduates. The 6th edition of the NCYA is here, and it promises to be bigger and better than ever before!
This year's NCYA features an essay writing competition with the theme "Breaking Barriers." The essay competition is open to all Nigerian undergraduates who want to showcase their writing skills and creativity in commemoration of our focus on recognizing and celebrating Nigerian youths overcoming adversity and making a difference.
Nigerian youth have faced various challenges in their quest for success, including poverty, discrimination, limited access to education, unemployment, and more. Despite these obstacles, many young Nigerians have succeeded in breaking barriers and achieving their goals, making a positive impact on their communities and beyond.
We are inviting all Nigerian undergraduates to share stories of themselves or Nigerian youths breaking barriers in their pursuit of success with original and innovative essays.
ESSAY PRIZES
The star prizes for the essay writing competition include an award, tech gadgets, and branded items. Other prizes include books and certificates.
ESSAY RULES
All interested participants are to abide by the following:
The essay must be between 1000-1500 words
The essay must be an original work by the student, Any act of plagiarism will result in disqualification.
The essay must be typed and submitted in PDF format
The essay Document must include the Full Name, Institution, Course, Level, Contact & Age of the Student.
Submission Guidelines
The essay PDF & student ID card should be sent as email attachments to [email protected] with the Subject "NCYA 2023 ESSAY" and the body of the email should also contain the details of the student.
Shortlisted essay participants would be invited for live essay writing.
Deadline
The deadline for submission is 30th June 2023. Late submissions will not be considered.
For sponsorship, partnership, and other enquiries, please call 09038281234 or 08100524026 or email [email protected]. You can also follow NCYA on Social Media @ncyawards and @more9jacom