Nigeria Decides 2023: How to Make Your Vote Count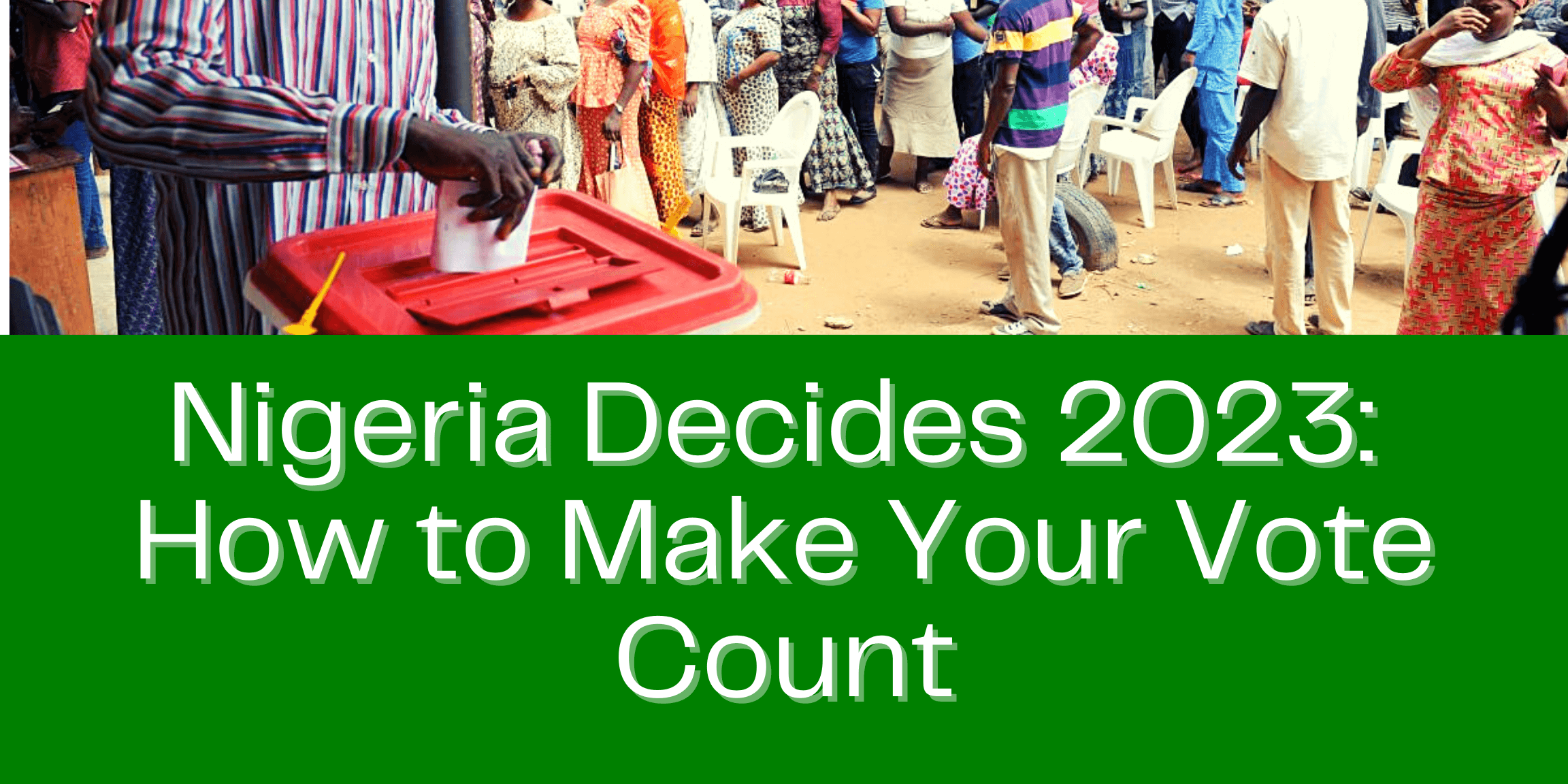 The Nigerian presidential election is just around the corner, and it's crucial to make your vote count. The outcome of this election could determine whether the country continues on a path of political and economic instability or moves towards becoming a major superpower by the mid-21st century. Therefore, it's essential to vote wisely, guard your Permanent Voter Card, and follow the rules of the game to ensure that your voice is heard.
To make your vote count, it's important to go early to the polling unit and observe every action, including verifying ballot papers and result sheets and ensuring that the BVAS device has zero figures before voting commences. After voting, wait to ensure that ballot papers are counted and recorded on appropriate forms, and that voting figures are uploaded onto INEC's Elections Results Viewing Portal with the BVAS device. If the network fails, follow the INEC officials to wherever they will get network to upload the results electronically.
It's also crucial to insist that the INEC officials should post the voting results at the polling unit and accompany them to the ward election results in collation centres to ensure there are no collation manipulations.
Apart from ensuring that the "hygiene" aspects of the elections are upheld, citizens must intelligently cast their votes in this election. Anyone who allows themselves to be swayed by vote buying or other wayward means to cast their vote must be an enemy of this country.
Furthermore, Nigerians who occupy the highest office of citizens of this country have an obligation to themselves and to their posterity to vote for the best candidates to run the executive branch and the legislative arm of Nigeria's Federal Government from May 29, 2023.
In order for this vote to go the way it should, Nigerians must prioritize the issues that truly matter to them. This means looking beyond tribal and religious affiliations and instead focusing on the policies and track records of the candidates and their respective parties.
One important issue that must be considered is the state of the economy. Nigerians deserve a government that can provide them with opportunities for economic growth and development, as well as stability and security. The current state of inflation, rising prices, and unemployment are unacceptable, and voters must choose a candidate who has a proven plan to address these issues.
Another critical issue that must be considered is the state of democracy in Nigeria. The next administration must be committed to upholding the tenets of democracy, including the rule of law, transparency, and accountability. Nigerians deserve a government that is accountable to them, not one that prioritizes the interests of a select few.
Moreover, Nigerians must prioritize the issue of security. The country has been plagued by violence and insecurity for far too long, and it is the responsibility of the government to ensure the safety of its citizens. Voters must choose a candidate who has a clear plan for addressing this issue and who has a track record of success in doing so.
In addition, the next administration must prioritize education, healthcare, and infrastructure development. These are all essential components of a thriving society, and Nigerians must demand that their elected officials prioritize them.
Nigerians do not need another nightmare of the proportion of a government that always appears to be absentminded. What Nigerians need is a President, assisted by an ideologically committed National Assembly, to deliver democratic values and economic prosperity.
The upcoming Nigerian presidential election is crucial, and it's up to every citizen to make their vote count. Go early to the polling unit, observe every action, cast your vote wisely, and ensure that the results are recorded and uploaded properly. With this coming election, Nigerians must think, avoid violence, vote wisely, and take their country back. It's time for a change!