Exclusive: Meet Miss Adebayo Oluwadamilola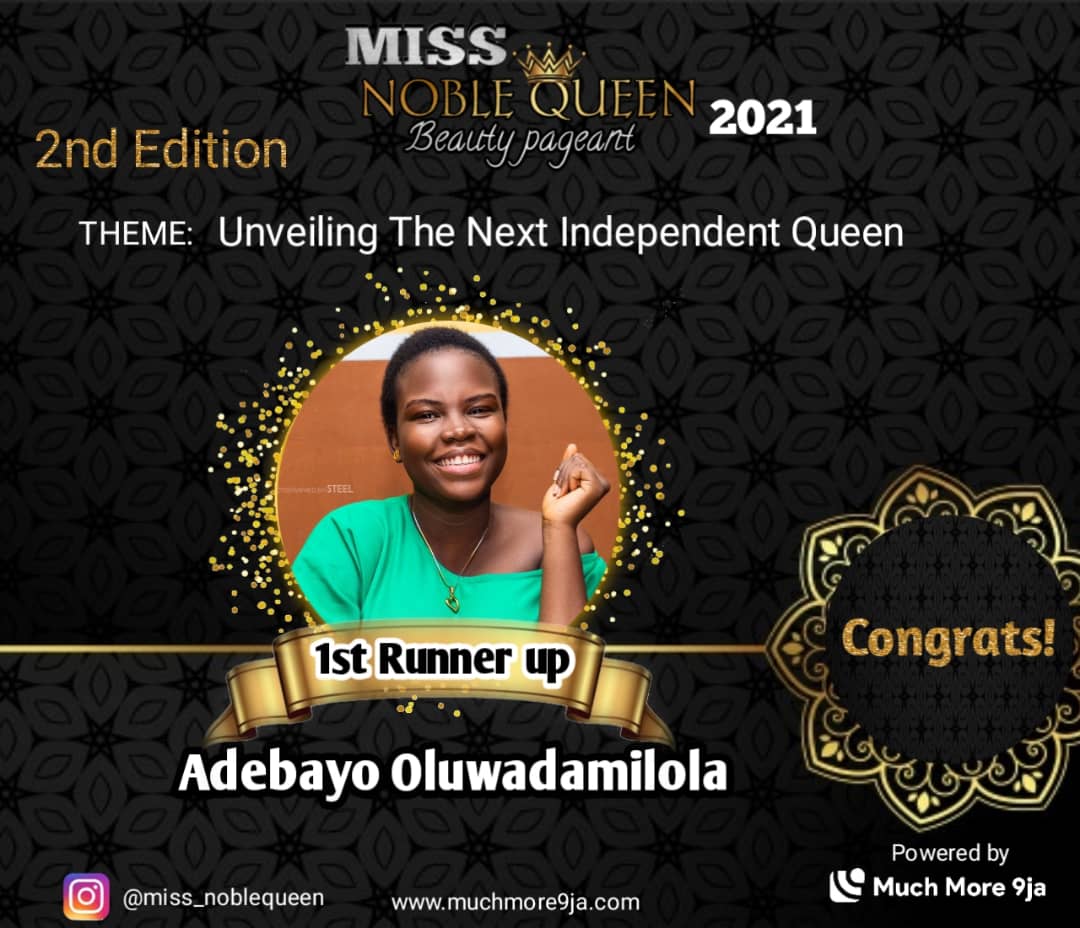 Meet Adebayo Oluwadamilola, our Miss Noble Queen 2021 1st Runner Up in an exclusive interview. Her prizes include an exclusive cash prize, a three month promotional modelling contract with monthly data subcription and remunerations.
Congrats on winning our Contest, Let's get to know more about your personality.
Tell us about yourself?
My Name is Adebayo Oluwadamilola Janet, an indigene of Ikere, Ekiti State, the firstborn and the only girl in the family of three, born and bred in Edo state. I am also a graduate of Science Laboratory Technology from the University of Ekiti State University. I hope to be an ever-shining light in this dark world.
Wow, what an awesome personality we have here.
What's your relationship status?
I'm in a Relationship
What are your hobbies and Interests?
I love reading, gisting, cooking and swimming.
What's your ideology about life?
Life is only meaningful when it's lived in service to God and humanity.
Besides modelling, what else are you into?
Clothing business and hairdressing.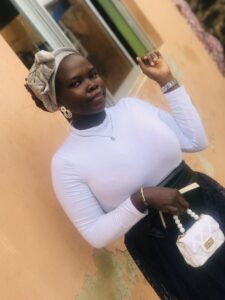 Wow, that's awesome of you.
How did you get to know about the contest?
I was surfing the net and stumbled on the ad e-flier and I decided to register.
What motivated you to participate in the contest?
I saw it as a platform to get on other platforms and besides I have always wanted to be a model so I just thought I should go for it.
What can you say about the organization of the contest?
I would say it was conducted with a high level of transparency, I didn't have to doubt its credibility.
How do you feel emerging as a runner up?
I feel good, great and so happy even though I have always wanted to be the Winner, not a runner up but, I still thank God.
Besides this contest, which other contests have you performed well or won?
None.
How would you describe your modelling journey so far?
I am not a model, though I have always wanted to be and am sure I will make a great model from now on.
What do you plan to do with the fame and popularity our contest have given you?
To propagate the kingdom of God in anything I do and also to motivate others.
What would you describe as your best and worst moments so far this year?
My best moment this year was when I became a graduate of Ekiti state university and my worst moment was when I lost my Father.
Congrats on your graduation and sorry about your loss.
The year 2021 is gradually coming to an end, what do you plan to do or achieve in the remaining months of the year?
I Want to have my stylist shop.
Where do you intend to see yourself in the next five years?
Running my various businesses, winning in all I do and enjoying marital bliss.
Any Shout-out or final words?
I want to appreciate God, my mummy, siblings, fiancé and my best friend I love you mummy and also to all my family who showed up and showed off for me to get here, I say God bless you. I truly appreciate and hope to keep making you all proud. I Love you all!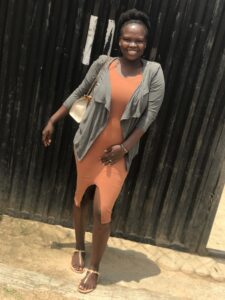 You can connect with Miss Oluwadamilola via
Instagram: @im_dharm_jhane
To get featured in our exclusive interviews or Profiles, Contact us via WhatsApp on +2349038281234.