Exclusive: Meet our Face of March 2018 Winner
More 9ja, Nigerian Latest Blog Face of March 2018 proudly sponsored by I Graphics and Peerol Networks brought Six youths from different parts of the Country to showcase their selves in a free and fair online voting poll.
At the close of Voting on March 2nd 2018, Contestant 3 – Josephine Asigimo finished first having the highest number of votes and Contestant 6 – Gideon Oyelola followed after her as the runner up. Both where gifted internet data subscription from Peerol Networks.
Let's meet our Winner in an Exclusive Interview!

Congratulations for contesting and winning the March 2018 edition of our face of the month contest! Please we would love to know you better, can you tell us about yourself?
I'm Josephine Asigimo, from Bayelsa State. I am 20 years old, 5 feet tall, dark skin with dark brown hair and eye. I am a 200 level student of sociology and anthropology at Federal university Otuoke. I love dancing and I am an extrovert.
Wow such great personality we have here. What's your Relationship Status?

I'm single.
Our audience would be wondering why a beautiful and wonderful lady like you would be single, how is life as a single lady?

Actually, I was in a relationship, but a misunderstanding brought it to an end. Hmm single hood is most times boring and some times enjoyable.

Thanks for sharing, it's nice to know you don't feel really bad about been single, from your experience, do you think being in a relationship is a distraction and can do more harm than good to undergraduates?
Been in a relationship isn't a distraction, it all depends on the kind of relationship you are into though and it's a choice to get distracted or not.
Our audience will be grateful to learn from your experiences.
So can you tell us about your ideology about Life, how do you see life?


I see Life as a book with different pages, each day is a new page that brings us to a new story and stage.
Wow, nice view about Life, we guess life is easy for you and success is always within your reach with such mindset.
Can you tell us How or where you intend to see yourself in the Next 6 years?
Hmm, in next six years I intend seeing myself in my husband's house with my kids and also as a boss over an organisation.
Great dreams, Everything is possible as long you work at them.
What do you Feel about the contest?

I feel it gives young beautiful models a chance to express explore and equally get experience as how to face life and showcase themselves to the world at large.
We love the way you see our contest. What are your favourite posts on the blog?

My Favourite Posts… the gist – Shock as Teacher weds his 17 year old blood Sister in Church and the news about Big Brother 9ja
Hmm, It's seems you are a lover of gist and entertainment. Our Blog is visioned to enlighten and entertain our Audience… We are proud our vision is coming into Reality.
Who do you want to send a Shout out to?
My shout goes to Charity, Gift, Clement, Prosper, Anny, Godgift and to all my family members and friends.
Thanks for your time!

We wish you the best in all your life endeavours.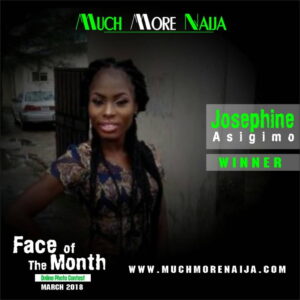 Once again Congratulations Josephine, More 9ja Face of March 2018 Winner!!!

You can contact her on Facebook @ Josephine Asigimo

Also See Details of our Runner Up and other contestants here.
You can become our Next Face of the Month, Visit here for details.