Press Release: Deadline Extension for NCYAWARDS 2023 Entries and Nominations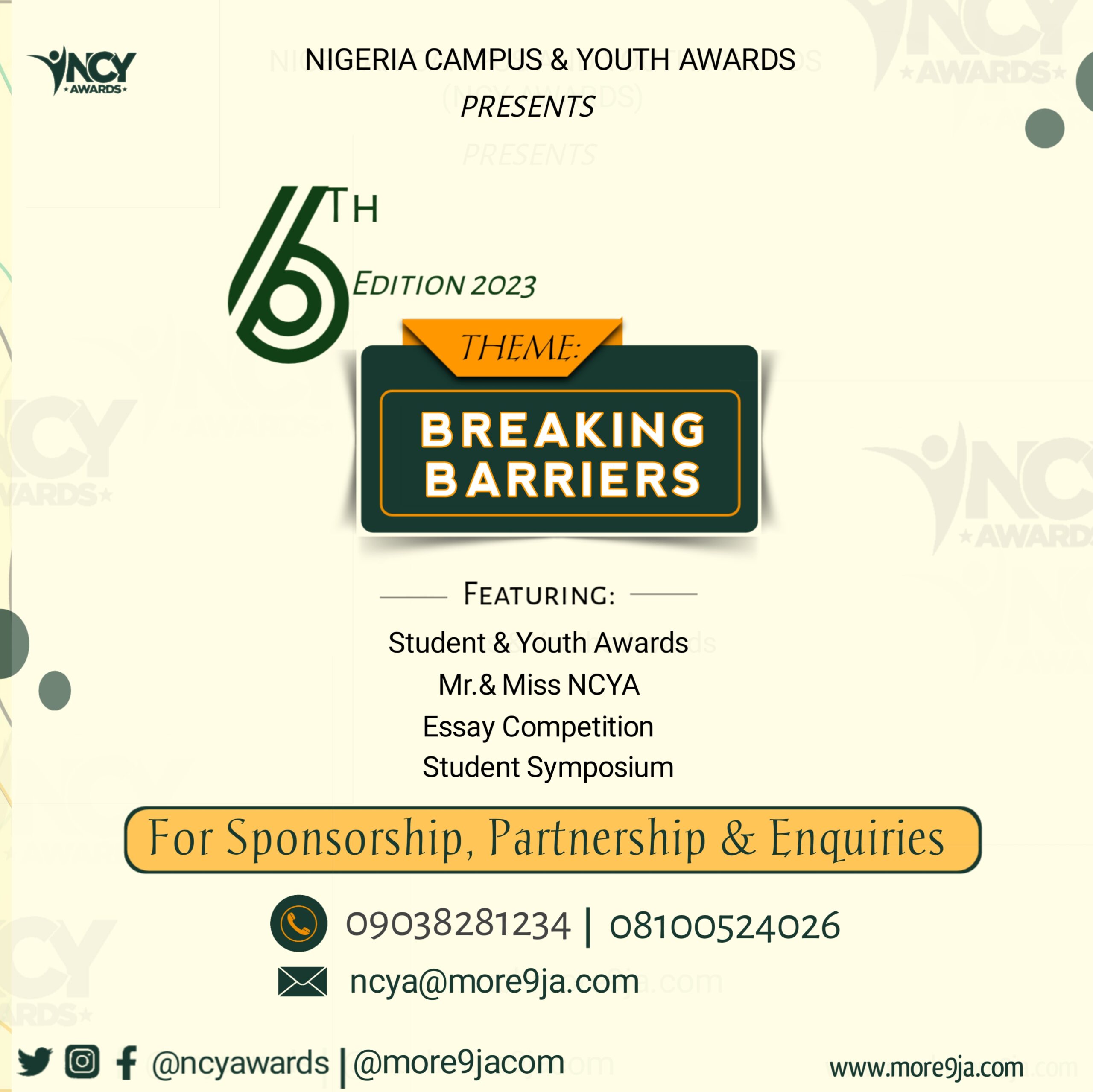 The organizing committee of the prestigious NCYAWARDS 2023 is pleased to announce that the deadline for submitting entries and nominations for the highly anticipated event has been extended.
Nigeria Campus & Youth Awards (NCYA) is an annual event that recognizes and celebrates the achievements of Nigerian students and youth. The 6th edition themed "Breaking Barriers" will be held this year in Yenagoa, Bayelsa state. This year's event will feature student & youth awards, an essay competition, pageantry, an educational seminar, and other activities.
All Nigerian Students and Youths are invited to participate in the various activities and programs featured in our sixth edition as nominations and entries now close on 30th June 2023.
Campus and Youth Awards
Nominations for NCYAWARDS 2023 are still open, undergraduate students and youths are encouraged to nominate themselves or others they believe are worthy of recognition for their achievements. The Nomination is free and fully online and would be open till June 30th, 2023. After that, shortlisted nominees would be announced and unveiled for online voting.
To nominate please visit www.more9ja.com/award
2023 Essay Writing Competition
Our 2023 Essay writing competition is focused on recognizing and celebrating Nigerian youths who have overcome adversity and made a difference in their communities and beyond. With the theme "Breaking Barriers," we aim to highlight the triumphs of Nigerian youth in the face of challenges. Participants are to share stories of themselves or Nigerian youths breaking barriers in their pursuit of success with original and innovative essays.
The deadline for essay submissions is 30th June 2023. Prizes include an award plaque, tech gadgets, books, and certificates. For more info on essay submission and guidelines, please visit www.more9ja.com/essay
Mr & Miss NCYA 2023 Pageantry
One of the highlights of the NCYAWARDS 2023 is the Mr and Miss NCYA pageant, which showcases the beauty, intelligence, and talent of young Nigerians. This year's winners will receive fantastic prizes, including Tech Gadgets, Branded Items, cash prizes, ambassadorial deals, and consolation prizes.
Registration is free and open to males and females, ages 18-25. Entry also closes on the 30th of June 2023. For more info on registration and participation, please visit www.more9ja.com/ncya
Other Information
We will also be holding an educational seminar for students and youth and a live essay writing competition for the top essay finalists. The presentation of awards and prizes will take place at our grand finale event. Dates and other details will be communicated in due course. Additionally, if you would like to showcase any talent or performance during the grand finale event, please kindly inform us.
Contact Information
For sponsorship, partnership and enquiries,
Please call 09038281234, 08100524026 or email [email protected]
Follow the event on social media for updates @ncyawards & @more9jacom