Call for Nominations – Nigeria Campus Awards 2021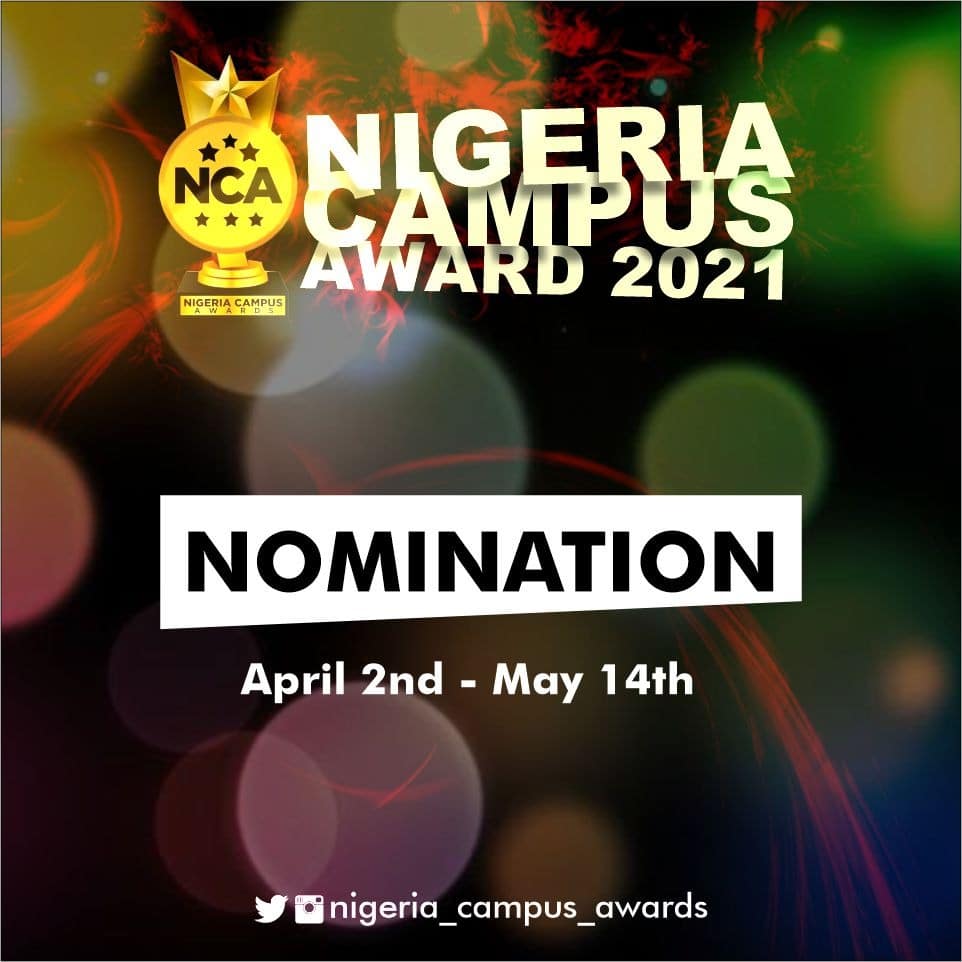 Great news! The fourth Edition of Nigeria Campus Awards is now open for nominations.
Over the years, the award event has pride itself in recognizing and rewarding outstanding youths across the various institutions and states in Nigeria. This year's edition has been themed: Youths Awakening and would for the first time feature non-student categories.
The Nomination is free and fully online and would be open till May 14th 2021. Thereafter, shortlisted nominees would be announced and unveiled for online voting.
Nigeria Campus Awards 2021 Awards Categories
Student Categories
Mr Personality
Miss Personality
Most Influential Student
Most Intelligent Student
Charismatic Leader on Campus
Best Writer on Campus
Best Rapper On Campus
Best Comedian on Campus
Best Artiste On Campus
Campus Blogger of the Year
Most Creative Student
Famous Artiste on Campus
Best Graphic Designer on Campus
Best Organization on Campus
Political Icon on Campus
Best Student Representative
Big, Bold and Beautiful
Campus Song of the year
Best Female Artiste on Campus
Next Rated Artiste On Campus
Best Dancer on Campus
Best Performing Artiste on Campus
Campus Model of the Year
Most Resourceful Student
Campus Sport-Man/Woman
Best Entertainer on Campus
Enterprising Student of the Year
Best Photographer on Campus
Best PR on Campus
Talented Artiste of the Year
Youth (Non-Student) Categories
Most Industrious Youth
Most Resourceful Youth
Hype-Man of the Year
Personality of the Year
Entrepreneur of the Year
Best MC of the Year
Most Expensive Youth
Cinematographer of the Year
CEO of the Year
DJ of the Year
YouthLed Organization of the Year
Music Artiste of the Year
Most Creative Youth
Graphic Designer of the Year
Online Shop of the Year
Best Dance Crew
Political Activist of the Year
Gospel Artiste of the Year
Media Personality of the Year
Model of the Year
Best Actor of the Year
Best Actress of the Year
Nominations closes May 14th 2021, Please beware multiple submissions of the same entry/nomination is prohibited.
For Sponsorship and other Enquires Call or WhatsApp +2348100524026