Noble Queen 2022: Meet Miss Ulu Favour Ogbenyealu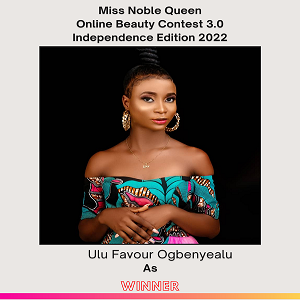 Meet Miss Ulu Favour Ogbenyealu, Miss Noble Queen 2022 Winner in an exclusive interview.
Congrats on winning the contest, Let's get to know more about your personality.
Please Tell us about yourself.
I'm Favour from Abia state. A final year Biochemistry Student Of Abia state University Uturu.
What's your relationship status?
I'm single.
What are your hobbies and Interests?
Dancing and elevating my modelling career to Greater heights.
What's your ideology about life?
Life is a Risk.
Besides modelling, what else are you into?
I'm a business tycoon.
How did you get to know about the contest?
On social media platform (WhatsApp)
What motivated you to participate in the contest?
My passion for modelling motivated me.
How do you feel about emerging as the Winner?
I feel so excited and motivated the more.
Besides this contest, which other contests have you performed well or won?
None.
How would you describe your modelling journey so far?
It has been an exciting one, full of fun.
What do you plan to do with the fame and popularity the contest has given you?
To build/grow my social media network.
What would you describe as your best and worst moments so far this year?
Best moment: Emerging as the winner of Noble Queen 2022.
The year 2022 is gradually coming to an end, what do you plan to do or achieve in the remaining months of the year?
To Gain more fame.
Where do you intend to see yourself in the next five years?
As an international Model.
Any Shout-out or final words?
Shoutout to my Big fans that voted for me. I LOVE YOU GUYS!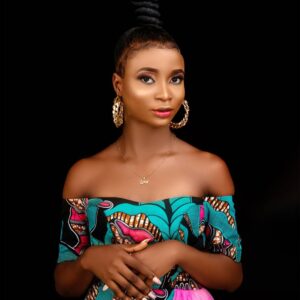 You can connect with Miss Favour via
Instagram: @ulu.favour.1
To get featured in our exclusive interviews or Profiles, Contact us via WhatsApp on +2349038281234.