Exclusive: Meet Miss Aderonmu Temitope – Face of UNILAG 2.0 2nd Runner Up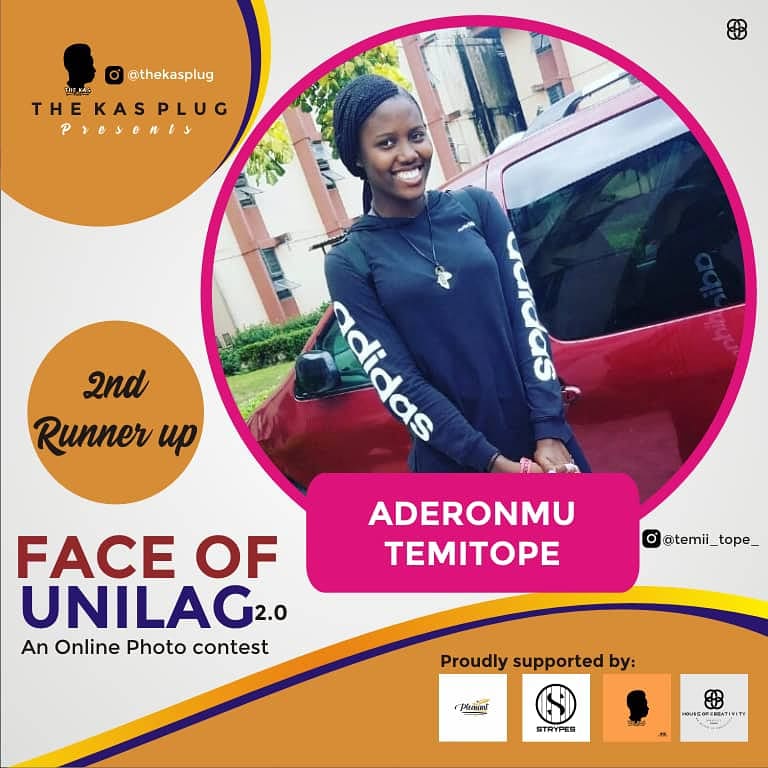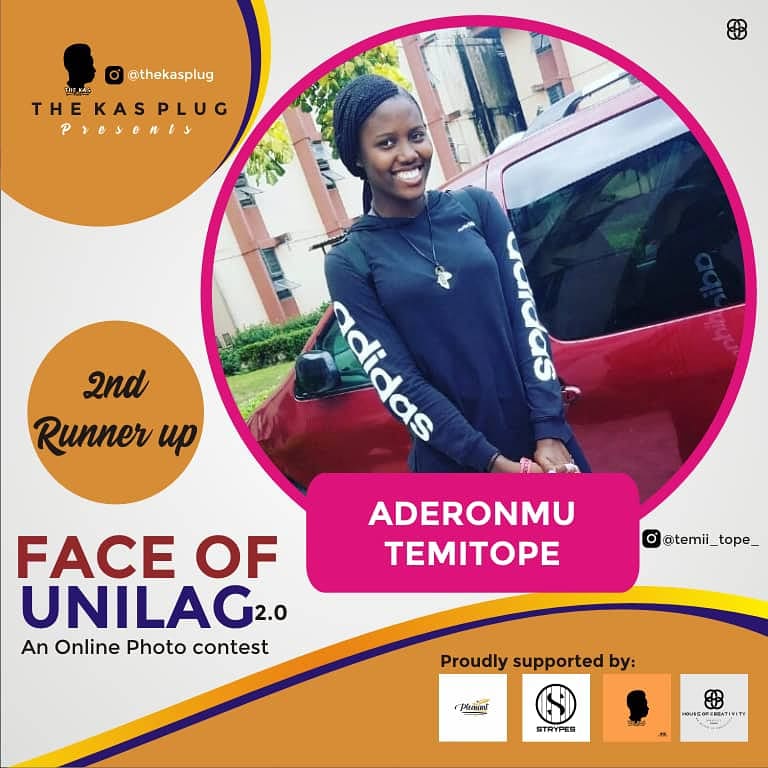 Let's Meet Miss Aderonmu Temitope, 2nd Runner Up at Face of UNILAG 2.0 Online Photo Contest Organized by THE KAS PLUG in an exclusive interview.
Congratulations for contesting and finishing as Face of UNILAG 2.0 Contest 2nd Runner Up, Can we meet you?
Yes sure, I'm Aderonmu Temitope Oluwatosin from Osun State, I'm 19 years of age, dark in complexion, 5'9 Tall and slim, a 100 level undergraduate of the University of Lagos, studying Chemistry.
Wow what a great personality we have here. What interests you most?
Well, I have interests in fashion, music and social lifestyles, I'm a fashion designer although not as a profession yet but I make designs for myself, family and friends, I'm a very creative person and is interested in anything creative.
And your hobbies?
I love listening to music, writing, browsing, getting facts and getting money
Please can you share with us your relationship status?
I'm Single.
Do you think relationships are distractions to students?
Not really, I think it depends on the particular student and how serious he or she wanna be. Relationship is not a distraction if one can maintain it but if one can't, just stay single till you finish your education and you will do fine in relationships later.
Nice point of view, How did you get to know about the contest? How did you get to know about the contest?
I got informed about it by a course mate (Ibukunoluwa).
What motivated you to participate in the contest?
The campus model worldwide prize of a thing, and my social lifestyle.
What can you say about the organization of the contest?
It was a very great one, searching for beautiful faces to contest and creating awareness and publicity for people to participate, Kudos to the Organizers.
What were your challenges during the contest and how were you able to overcome them?
(Laughs) The contest wasn't an easy one, at first it was easy for me to gather likes within two days it was massive and it was like I was leading, then like day 4, it started getting down because everyone on my contact seems to have voted, then I started telling people to help me repost. I even met with some WhatsApp influencers to promote me it didn't go viral enough. I was kind off behind not until I resumed and I started meeting people one on one to kindly help my picture everywhere I go, I walked to people's room in my hostel just to help like my picture. That was how i was progressing, till I finally entered the TOP 5.
How do you feel emerging a finalist?
(Smiles) I'm so happy, my efforts didn't go in vain.
What do you plan to do with the fame and popularity the contest have given you?
I hope its goes more massive, so my dream to model and get ambassadorship should come through.
Where do you intend to see yourself in the next five years?
A 24 years old international model, preaching about the black skin, who will definitely give back to the society. Kas has given me this platform and I won't take it for granted.
Finally, Any Shout-out or final words?
I'd like to say a very big thanks to the organizer of "Face of Unilag" and the CEO of Kasplug in the person of Otusanya Samuel Adebola for reaching out for me in the search. My shout-outs goes to my very good friends, too much to mention but I hope they see this, (they know themselves) for the biggest support they gave me during the competition, they stood and rooted out for me, the influencers that promoted me, Thanks to everyone on my contact list, I appreciate everyone's effort, May God bless you all, I love you guys. Peace….
Thank for your Time, It was nice meeting you, Once again Congratulations and all the best in your future endeavours.