Exclusive: Meet Miss Ajayi Omoshola – Face of UNILAG 2.0 1st Runner Up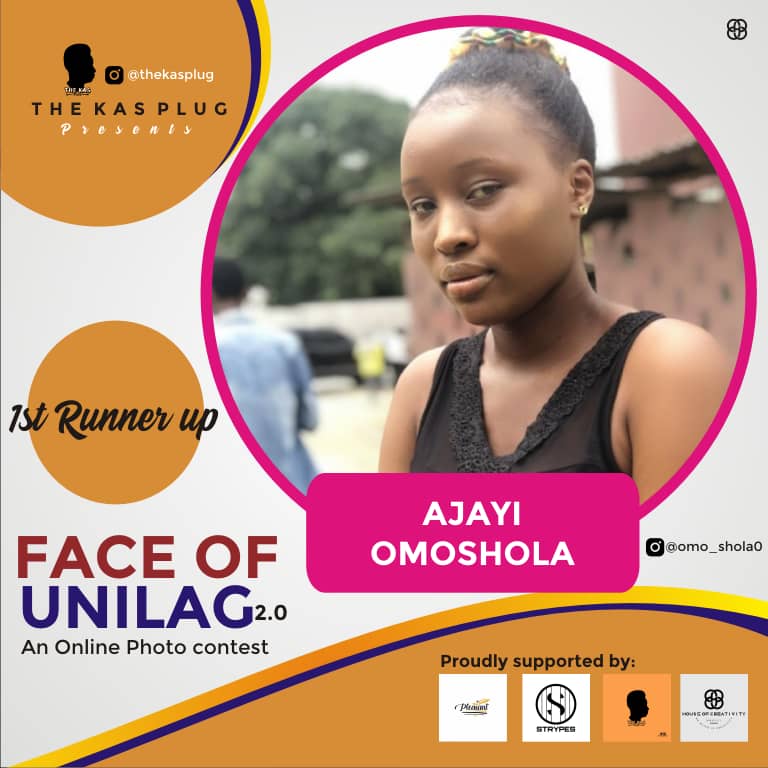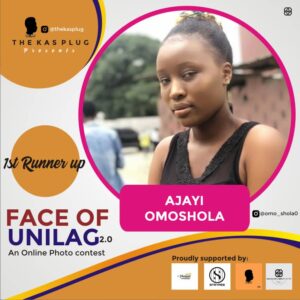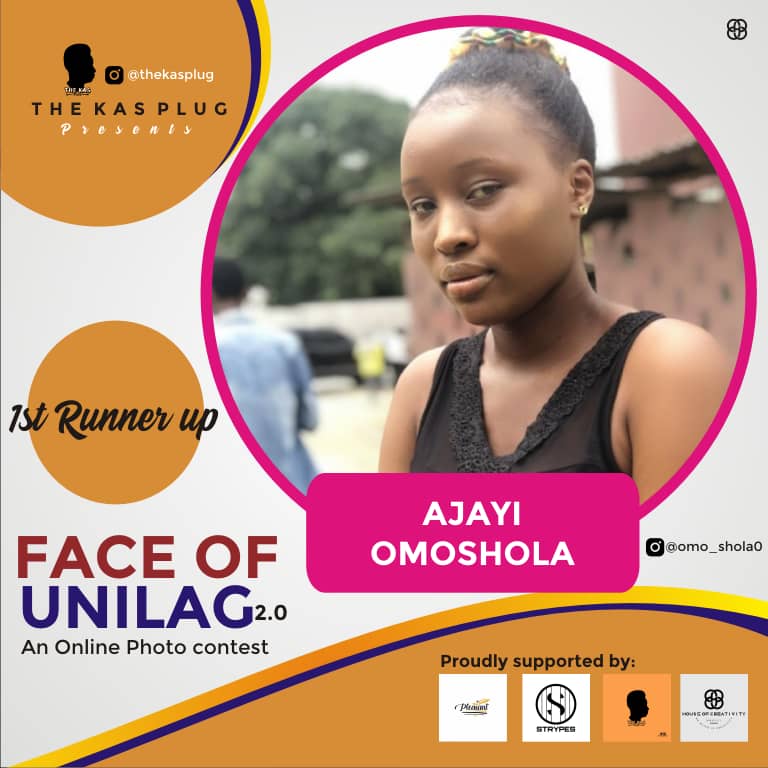 Let's Meet Miss Ajayi Omoshola, 1st Runner Up at Face of UNILAG 2.0 Online Photo Contest Organized by THE KAS PLUG in an exclusive interview.
Congratulations for contesting and finishing as Face of UNILAG 2.0 Contest 1st Runner Up, Can we meet you?
I'm Ajayi Omoshola, a 200 level student of Biology at UNILAG, from Osun State.
What's your current relationship status?
I'm not single, I'm in a relationship.
As someone in a relationship, do you think relationships are distractions to students?
I don't think they are, all I'll say is you know what you want, if you can't handle it don't go into it, any relationship that you are choked up in, call your partner's attention to it and if it persists please let go.
What are your hobbies?
My hobbies are cooking, singing, travelling and seeing movies.
How did you get to know about the contest?
My senior sister sent the info to me on Whatsapp.
What motivated you to participate in the contest?
With all sincerity, my loved ones did, Olamide, Keme to mention but a few.
What can you say about the organization of the contest?
Hmm, not bad but I guess better things can be done like meeting the contestant in person is a good idea, pictures are only reflections of a person, a lot of people are more beautiful in person than in pictures, the qualified contestants should be asked some questions, that will help in knowing their abilities, the price of the first runner up and second runner up should have a difference etc.
Thank you for sharing, those are good suggestions for the organizers to look into. What were your challenges during the contest and how were you able to overcome them?
My first challenge was fear, I was too scared of losing, I was able to overcome that by opening up to people, they helped by reassuring me that I can do this, the other challenge was getting likes, I just created a new Instagram account which I was not very active on, I don't have a lot of contacts because my phone got stolen, but with the help of those same people I was able to get there, sincerely I can't appreciate them enough.
How do you feel emerging a finalist?
I feel very good, yes I can do this, no fear whatsoever, I am really happy.
What do you plan to do with the fame and popularity the contest have given you?
I intend to open a brand, the fame and popularity I'll get from the contest will help me grow faster, and yes I look forward to being a sponsor to Face of UNILAG soon.
Where do you intend seeing yourself in the next 4 years?
Out of school definitely, in the modelling world, also a great business woman, working so hard to achieve my dreams.
Finally, Any Shout-out or final words?
My first shout out goes to my parents, they supported me so much, next my darling Olamide, Keme, Dunamis, Ghost, Sapphire, Bola, my roommates, Adunnie everyone who helped this little girl do this, I love you guys a lot and I really appreciate your kind gestures, even those I have never met before, indeed what's worth doing is worth doing well, Thank you!
Thank for your Time, It was nice meeting you, Once again Congratulations and all the best in your future endeavours.