Exclusive: Meet our Face of April 2018 Winner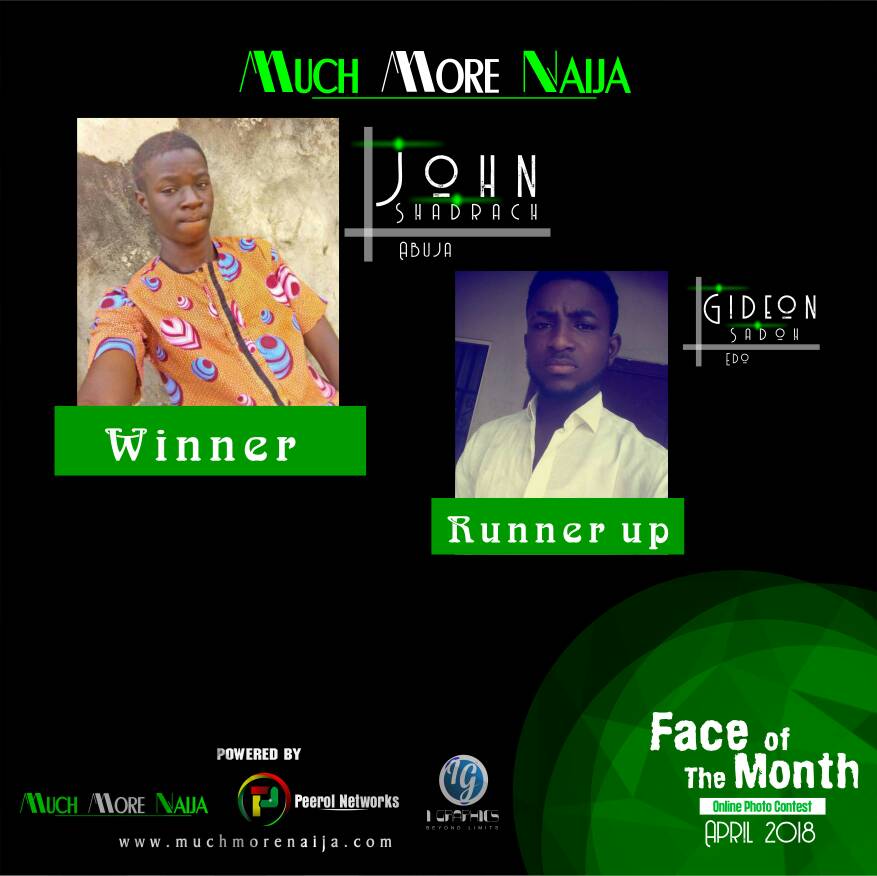 More 9ja, Nigerian Latest Blog Face of the Month contest for April 2018 proudly sponsored by I Graphics and Peerol Networks brought four youths from different parts of the Country to showcase their selves in a free and fair online voting poll.
At the close of Voting on March 31st 2018, Contestant 4 – John Shadrach won having the highest number of votes and Contestant 2 – Gideon Sadoh followed after him as the runner up. Both where gifted internet data subscription from Peerol Networks.
As our customs demands, let's meet our Winner in an Exclusive Interview!
Congratulations for contesting and winning the April 2018 edition of our face of the month contest! Please we would love to know you better, can you tell us about yourself?
I am John Shadrach from Abuja, I'm 18 years old, dark skin and 6 feet tall.
I am a Music Producer and also a video Editor, I love Making Beat.
Nice intro about yourself, what's your relationship status?
Dating
How did you start your career as a music producer and video editor, how has the journey been?
I started Music Production when i was 15 years of age, it wasn't easy back then. It took me a long time to learn it.
I started Video Editing after I've finished learning Music Production.
So far so good I have worked with a lot of artiste in my area and I have been privileged to be awarded as the youngest producer and the best Hip pop Producer.
Wow that's nice, It's great to know you are working on a good professional career at your youthful age. More grace to your elbow.
Who is your favorite musician and what do you love most about his or her music?
My favorite musician is Ycee, I love the way he raps, his lyrics and pattern of his music.
Can you tell us about your ideology about Life, how do you see life?
I see life as pertains to the significance of living or existence in general.
Life is just like a circle, sorrows comes and go, laughter comes and go…
Wow, I guess life would be easy for you with such ideology. Can you tell  us How or where you intend to see yourself in the Next 6 years?
As a full Time Graduate.
Great dream, Everything is possible, as long as you work towards it.
What do you Feel being the winner of the contest?
I feel happy for being the Winner of this contest.
What do you love most about More 9ja Blog?
I like the news updates.
Finally, who do you want to send a shout out to?
I want to say a big shout out to my friends, who took their time to vote for me as the Face of April 2018.
Thanks for your time!

We wish you the best in all your life endeavours.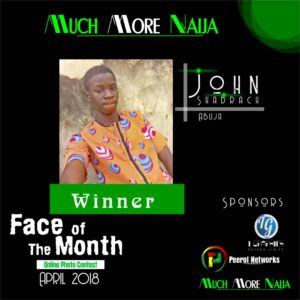 Once again Congratulations John, More 9ja Face of the Month Winner For April 2018!!!
You can contact him on Facebook @ John Shadrack

Also See Details of our Runner Up and other contestants here.
You can become our Next Face of the Month, Visit here for details.