Face of May 2018 Announcement
More 9ja Face of May 2018!!!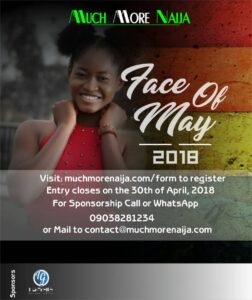 Register and be part of our Face of May 2018: Message us on Whatsapp on 09038281234 or our Facebook page with your details and photo.
Registration Closure: Monday 30th April by 12pm and Contestants will be announced  same day on our blog.
Voting will start by 6am on Tuesday the 1st and end by 6pm on Tuesday the 8th of May 2018.
Voting Page will be www.more9ja.com/vote
And the Contestant with the Highest Number of Votes will be our Face of the Month for May 2018.
For Sponsorship and Partnership, Contact us on 09038281234.
For More Info Please keep visiting www.more9ja.com and our Facebook Page: More 9ja and other Social media Platforms…