Exclusive Interview with Miss Elizabeth Uloma Ikebuwa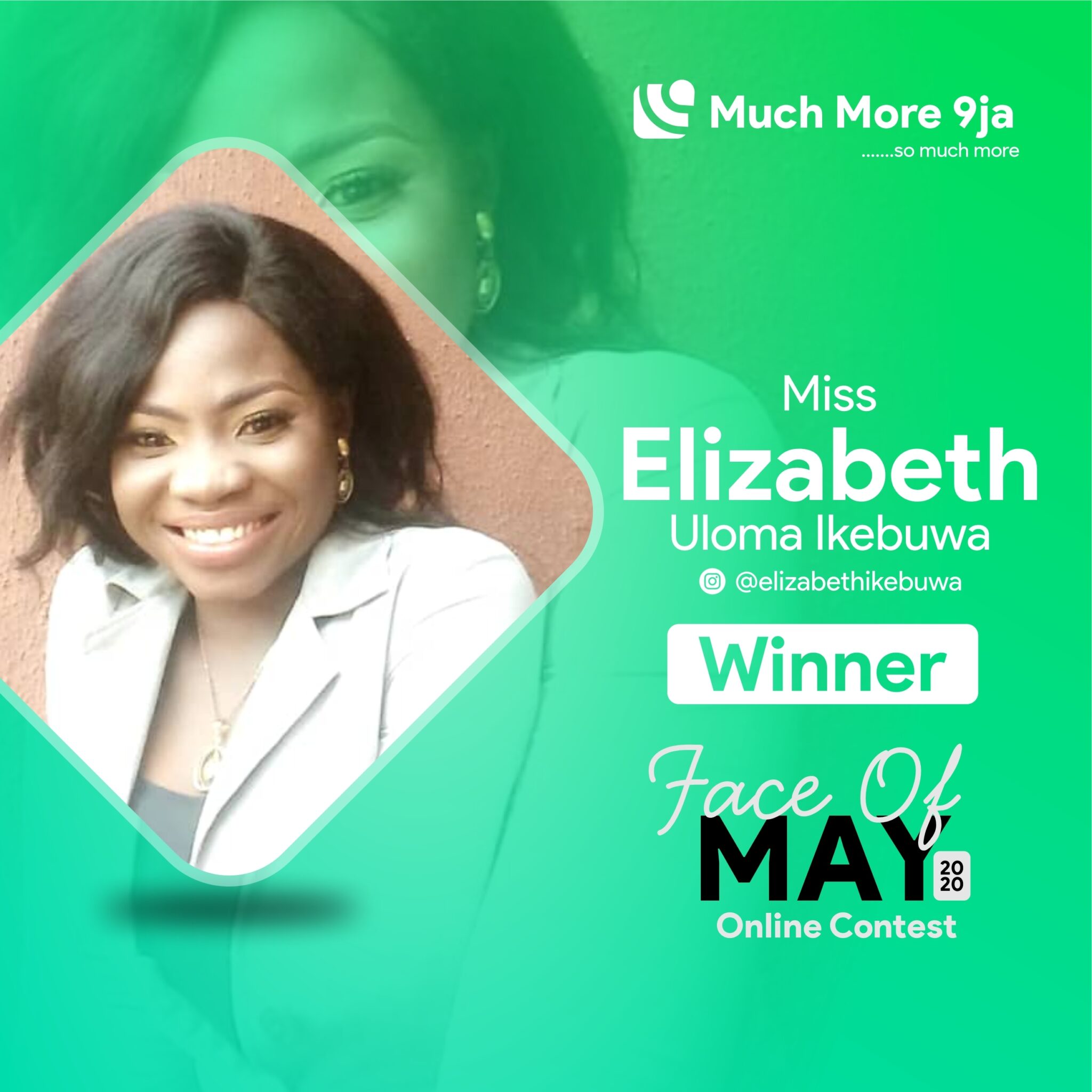 [bctt tweet=" Meet the gorgeous Miss Elizabeth Uloma Ikebuwa, Face of May 2020 winner as she talks about herself and the COVID-19 Pandemic amongst other entertaining and informative conversations. "]
Congratulations for winning Face of May 2020 Online Photo Contest hosted by More 9ja.
Please tell us about yourself?
I'm Miss Elizabeth Uloma Ikebuwa, dark in complexion, 5.9inch tall, free spirited, very creative, passionate, out spoken, strong willing, intelligent, life changer, beautiful and God fearing.
Wow, that's awesome. Can you also tell us about your educational background?
I attended Jakande Estate Comprehensive Senior College, currently studying Business Administration in Moshood Abiola Polytecnic and also ICAN in view.
Besides schooling and modelling, is there anything else you do?
Well, I'm a competent makeup artist and a reliable fashion designer.
What's your relationship status?
Single
What's your ideology about life?
[bctt tweet=" "Life is full of ups and downs, bad and good, challenges and opportunities we just have to be the one in control of it and make sure we put God first to enjoy it." "]
What's your location during the 2020 Lockdown and where would you have been if not for the lockdown?
My current location is the busy city of Lagos, I would have been in school which is Mapoly in Abeokuta if not for the pandemic.
With the Covid-19 Pandemic forcing everyone to stay at home, what are the negative and positive implications so far for you as an individual?
I will like to talk about the positive aspect first. It has really been an eye opening, it gave me a lot of opportunities and made me see greater things to achieve and brought me closer to God. It also helped me to relate with people that have not been able to get in touch with for a long period of time. Whereas, the negative aspect is that I couldn't grab some opportunities due to the lockdown and most especially it has placed my educational pursuit on hold.
In the fight against the Pandemic, what ways has the government and relevant agencies performed well and do you have any suggestions?
Governments and other agencies have really tried in making rules that would help in curbing this pandemic by putting in place the lockdowns and also providing health facilities and isolation centers. Provision of palliatives to the poor masses is also commendable, on the other hand the NCDC has done well in spreading awareness through the SMS and social media. My suggestion is everyone should continue to take all the precautions serious because Covid-19 is real.
[bctt tweet=" Maintaining social distance, washing your hands regularly with soap or using hand sanitizers, sneezing into your elbow and other safety precautions should be taken seriously. #COVID-19 "]
As a student of Business Administration, what are your recommendations for business owners during this pandemic?
These are indeed hard times and as such calls for a different approach in their business ventures, business owners should prioritize the safety of their staff and customers by strictly adhering to the laid down procedures and guidelines in their various locations while carrying out their businesses. These include providing soap and water at the entrance, hand sanitizers, thermometers and other safety precautions.
What are your career goals and where do you see yourself in the next five years?
Oh, my career goal is to become a successful business manager of various businesses. Hmm in five years' time… I should be rounding up my education and focusing on my goals.
Can you tell us how you got to know about the contest and what motivated you?
I got to know through Amb. Temitayo, the Brand Ambassador of More 9ja Media and I was motivated because of my passion for modelling.
What were your challenges during the contest and how were you able to overcome them?
Wow, my major challenge was at the beginning as my parents weren't in support of my dream of becoming a model, I nearly gave up but an Uncle of mine helped in convincing them. On the other hand, the second-place contestant woke my spirit by overtaking me several times even on the last day but consistency and God is the plug.
How do you feel emerging the winner and what do you plan to do as a promotional model at More 9ja Media?
I felt fulfilled and extremely happy when I won, I plan to be diligent while playing my role.
Finally, who do you want to send a shout out to?
I want to say a big thank you to Mr. and Mrs. Gregory Ikebuwa, Dr Taiwo and family and also to all MAPOLY business administration students and UNILAG Final year HKE students.
Thanks for your time, we wish you all the best!