Must See: Top 14 K-dramas Airing Now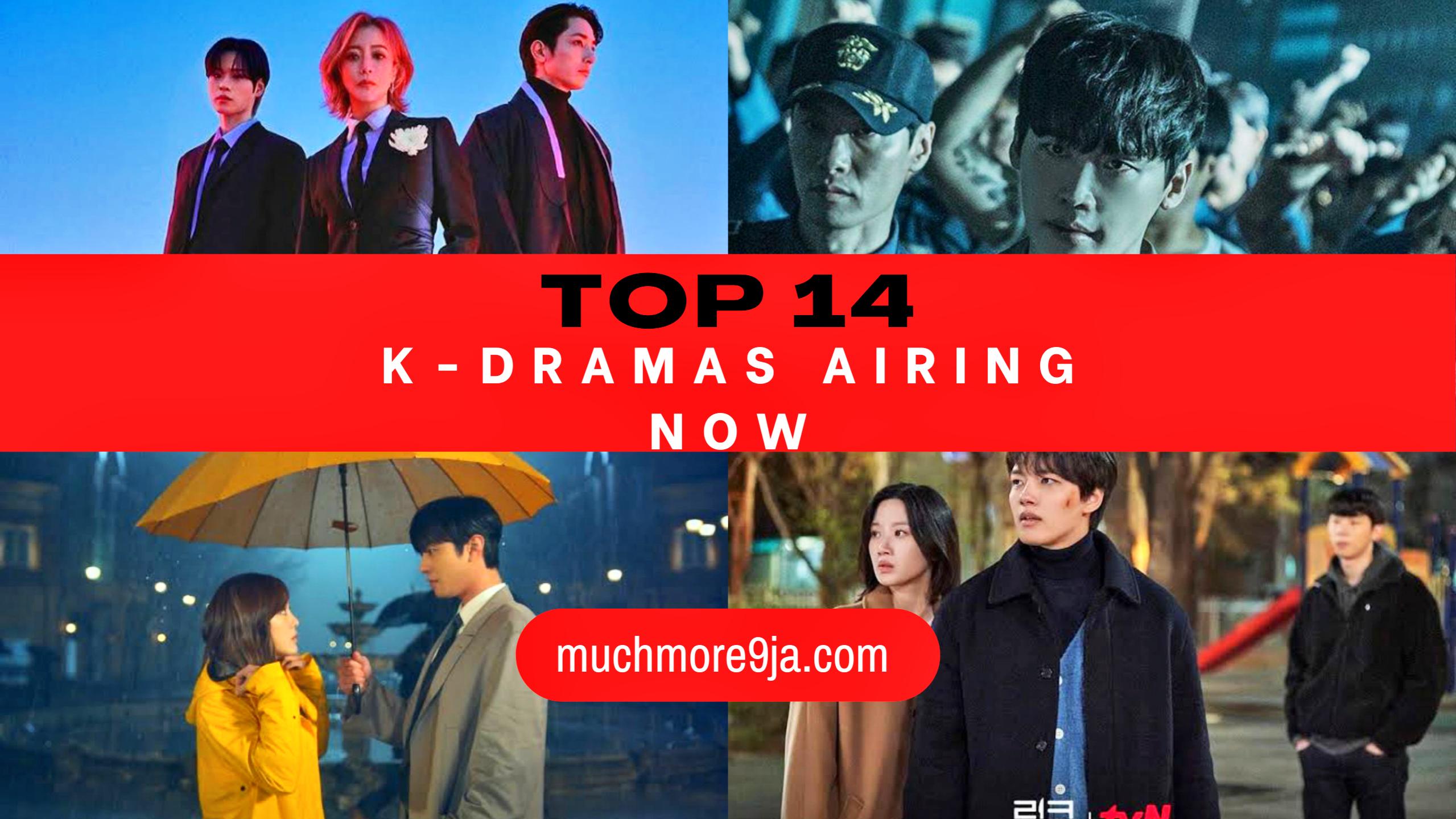 Are you stuck on what K-drama to watch, after finishing a mind-blowing one?
Oh my, I know that feeling. Every Kdrama lover has been stuck sometimes.
But worry not, there is always another mind-blowing K-drama waiting for you to finish the previous one.
All you need is the information and you get to choose the next to see now.
I've compiled for you in this article, 14 K-dramas airing from October 2022 to November 2022. And their available episodes as of the time of compiling this article.
MAY I HELP YOU
Genre: Comedy, fantasy, romance
Available episodes: 4 of 16
Synopsis: Butler Kim (Lee Jun-young), a man who replaces errands that start at 100 won per day, meets Baek Dong-ju (Lee Hye-ri), a funeral director who grants the wishes of the dead, running an errand company. The woman, Beak Dong-ju can communicate with ghosts and must fulfil their last wishes or face bad luck.
UNDER THE QUEEN'S UMBRELLA
Genre: Historical drama, comedy, political
Available episodes: 4 of 16
Synopsis: A spirited queen tries to change her troublesome sons into eligible princes in order to make one of them the next king of Joseon, while her competitors try to snatch the throne.
BAD PROSECUTOR
Genre: Legal drama
Available episodes: 7 of 12
Synopsis: Jin Jung (Do Kyung-Soo) is a delinquent prosecutor. He sometimes uses expedient action and trickery, instead of standard law practices. Although, he also has a deep sense of justice and conscience.
GAUS ELECTRONICS
Genre: Comedy, workplace, a slice of life
Available episodes: 8 of 12
Synopsis: The series is about the office workers of Marketing Team 3 at the home appliance headquarters of Gaus Electronics—a multinational company. It highlights the highs and lows of corporate life and the love and friendship between the employees.
CHEER UP
Genre: Romance, drama
Available episodes: 8 of 16
Synopsis: Hae Yi is a freshman at Yonhee University in the year 2019. As she comes from a poor family, she focuses mainly on earning money. She joins the Theia Cheerleading Squad just for the purpose of making money but happens to learn true love there.
ONE DOLLAR LAWYER
Genre: Legal drama
Available episodes: 9 of 12
Synopsis: The series depicts the story of a lawyer who has the best skills but only charges 1000 won as his attorney's fee.
THE EMPIRE
Genre: Drama, crime
Available episodes: 10 of 16
Synopsis: A family has accumulated vast wealth and power through the law. They face ruin because of scandals. Han Hye-Ryool (Kim Sun-A) and her family come from a law background. She works as the chief of a special investigation team at the Central District Prosecutors' Office. Her husband Na Geun-Woo (Ahn Jae-Wook) and her mother Ham Gwang-Jeon (Lee Mi-Sook) both work as law school professors. Her father Han Gun-Do (Song Young-Chang) works as a lawyer for the biggest law firm in South Korea.
THE GOLDEN SPOON
Genre: Fantasy, supernatural
Available episodes: 10 of 16
Synopsis: Lee Seung-Cheon (Yook Sung-Jae) is a high school student. His family is poor and he hates living in a poor environment. One day, he happens to meet an old woman. The old woman tells him that "If you buy this gold spoon for $3 from me, you can change your parents. You'll eat 3 meals with this gold spoon with someone your age and at their house. That person's parents will then become your parents."
LOVE IN CONTRACT
Genre: Romance
Available episodes: 12 of 16
Synopsis: A beautiful and charming woman, Choi Sang-Eun(Park Min-Young), works as a contract marriage professional. She helps single people have a smooth single life. Things got complicated when she found herself in a love triangle between her client Jung Ji-ho(Ko Gyung-pyo) who is a mysterious man and another client, Kang Hae-jin(Kim Jae-young) who is a popular actor.
BLIND
Genre: Crime, mystery
Available episodes: 12 of 16
Synopsis: Three individuals, Ryu Sung-joon (Ok Taecyeon), Ryu Sung-hoon(Ha Seok-jin) and Jo Eun-ki(Jung Eun-ji) got involved in a serial murder case in which its victims involves jury members and they try to uncover the truth behind the murders.
THE WITCH'S GAME
Genre: Romance, drama, revenge
Available episodes: 12 of 120
Synopsis: Yu Kyung is a successful woman who is proficient enough to become an executive director of Chunha Group when she started as a secretary. She recently found out her daughter is alive, so she plans to get her back and take her revenge.
VENGEANCE OF A BRIDE
Genre: Crime, drama melodrama
Available episodes: 12 of 100
Synopsis: Eun Seo-Yeon (Park Ha-Na) is a warm and friendly woman. She runs a small business that produces cosmetics and sells them on the internet. She also works as a staff member at a make-up salon. In the past, she and her parents were in a very close relationship with Kang Baek-San (Son Chang-min). He now runs a large cosmetics company. One day, Eun Seo-Yeon learns that Kang Baek-San is responsible for her parents' tragedy. She becomes determined to take revenge on him for his past deeds. Following her plan, she marries Kang Tae-Poong (Kang Ji-Sub), who is Kang Baek-San's son.
SEASONS OF BLOSSOM
Genre: Comedy, romance, youth, drama
Available episodes: 14 of 16
Synopsis: In the year 2016, Lee Ha-Min (Seo Ji-Hoon) and Han So-Mang (So Ju-Yeon) attend Seoyeon High School. They keep their friendship a secret from other people. Lee Ha-Min appears like a bright person, but there is also the darkness within his mind. Han So-Mang is a warm-hearted person, but she is also quite timid. As they enjoy their high school days, something happens to them and this leads to Lee Ha-Min's death.
MENTAL COACH JEGAL
Genre: Sports
Available episodes: 14 of 16
Synopsis: Jegal Gil(Jung Woo), was banned from the team of national taekwondo after he caused unprecedented trouble. He then becomes a mental coach to help players in a slump, heal retired athletes and fight a real match against the absurd world of winner-take-all.