Russia 2018 Fifa World Cup Fixtures, Results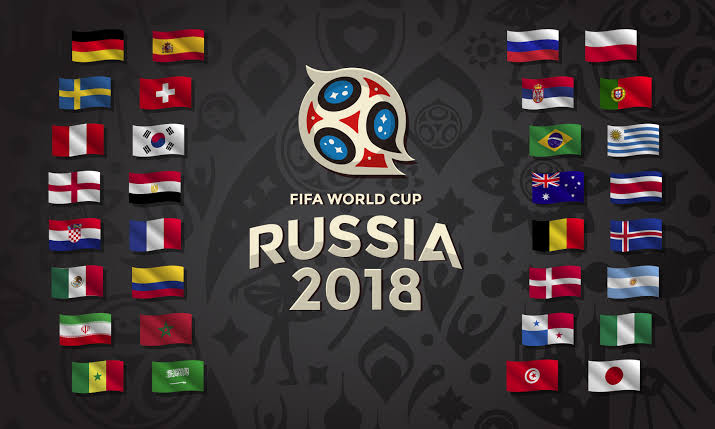 The Russia 2018 World Cup is now underway!
The 2018 FIFA World Cup is scheduled to hold from June 14 to July 15 in Russia.
Below is the complete schedule of Russia 2018 World Cup with Fixtures in Nigerian Time (results of each game would be updated on this page).
RUSSIA 2018 WORLD CUP GROUP STAGE

THURSDAY, JUNE 14
Russia vs. Saudi Arabia – 5 : 0
FRIDAY, JUNE 15
Egypt vs. Uruguay – 0 : 1
Morocco vs. Iran – 0 : 1
Portugal vs. Spain – 3 : 3
SATURDAY, JUNE 16
France vs. Australia – 2 : 1
Argentina vs. Iceland – 1 : 1
Peru vs. Denmark – 0 : 1
Croatia vs. Nigeria – 2 : 0

SUNDAY, JUNE 17
Costa Rica vs. Serbia – 0 : 1

Germany vs. Mexico – 0 : 1

Brazil vs. Switzerland – 1 : 1

MONDAY, JUNE 18
Sweden vs. South Korea – 1 : 0

Belgium vs. Panama – 3 : 0

Tunisia vs. England – 1 : 2

TUESDAY, JUNE 19
Colombia vs. Japan – 1 : 2

Poland vs. Senegal – 1 : 2
Russia vs. Egypt – 3 : 1

WEDNESDAY, JUNE 20
Portugal vs. Morocco – 1 : 0
Uruguay vs. Saudi Arabia – 1 : 0
Iran vs. Spain – 0 : 1
THURSDAY, JUNE 21
Denmark vs. Australia – 1 : 1
France vs. Peru – 1 : 0
Argentina vs. Croatia – 0 : 3
FRIDAY, JUNE 22
Brazil vs. Costa Rica – 2 : 0
Nigeria vs. Iceland – 2 : 0
Serbia vs. Switzerland – 1 : 2

SATURDAY, JUNE 23
Belgium vs. Tunisia – 5 : 2

South Korea vs. Mexico – 1 : 2

Germany vs. Sweden – 2 : 1
SUNDAY, JUNE 24
England vs. Panama – 6 : 1

Japan vs. Senegal – 2 : 2

Poland vs. Colombia – 0 : 3

MONDAY, JUNE 25
Saudi Arabia vs. Egypt – 2 : 1

Uruguay vs. Russia – 3 : 0

Iran vs. Portugal – 1 : 1

Spain vs. Morocco – 2 : 2

TUESDAY, JUNE 26
Australia vs. Peru – 0 : 2
Denmark vs. France – 0 : 0
Iceland vs. Croatia – 1 : 2
Nigeria vs. Argentina – 1 : 2
WEDNESDAY, JUNE 27
South Korea vs. Germany – 2 : 0
Mexico vs. Sweden – 0 : 3
Serbia vs. Brazil – 0 : 2
Switzerland vs. Costa Rica – 2 : 2
THURSDAY, JUNE 28
Japan vs. Poland – 0 : 1
Senegal vs. Colombia – 0 : 1
England vs. Belgium – 0 : 1
Panama vs. Tunisia – 1 : 2
RUSSIA 2018 WORLD CUP ROUND OF 16

SATURDAY, JUNE 30
France vs Argentina – 4 : 3
Uruguay vs Portugal – 2 : 1
SUNDAY, JULY 1
Spain vs Russia – 1 : 1 (3 : 4)
Croatia vs Denmark – 1 : 1 (3 : 2)
MONDAY, JULY 2
Brazil vs Mexico – 2 : 0
Belgium vs Japan – 3 : 2
TUESDAY, JULY 3
Sweden vs Switzerland – 1 : 0
Columbia vs England – 1 : 1 (3 : 4)
RUSSIA 2018 WORLD CUP QUARTER-FINALS

FRIDAY, JULY 6
Uruguay vs France – 0 : 2
Brazil vs Belgium – 1 : 2
SATURDAY, JULY 7
Sweden vs England – 0 : 2
Russia vs Croatia – 2 : 2 (3 : 4)
RUSSIA 2018 WORLD CUP SEMI-FINALS

TUESDAY, JULY 10
France vs Belgium – 1 : 0
WEDNESDAY, JULY 11
Croatia vs England – 2 : 1
RUSSIA 2018 WORLD CUP THIRD-PLACE PLAY OFF

SATURDAY, JULY 14
Belgium vs England – 2 : 0
RUSSIA 2018 WORLD CUP FINAL
Sunday, July 15/7/2018
France vs Croatia – 4 : 2
Like and follow our page on Facebook for Live Updates and Highlights
Keep visiting More 9ja for so much more…