Nigeria Campus & Youth Awards 6th Edition 2023 Grand Finale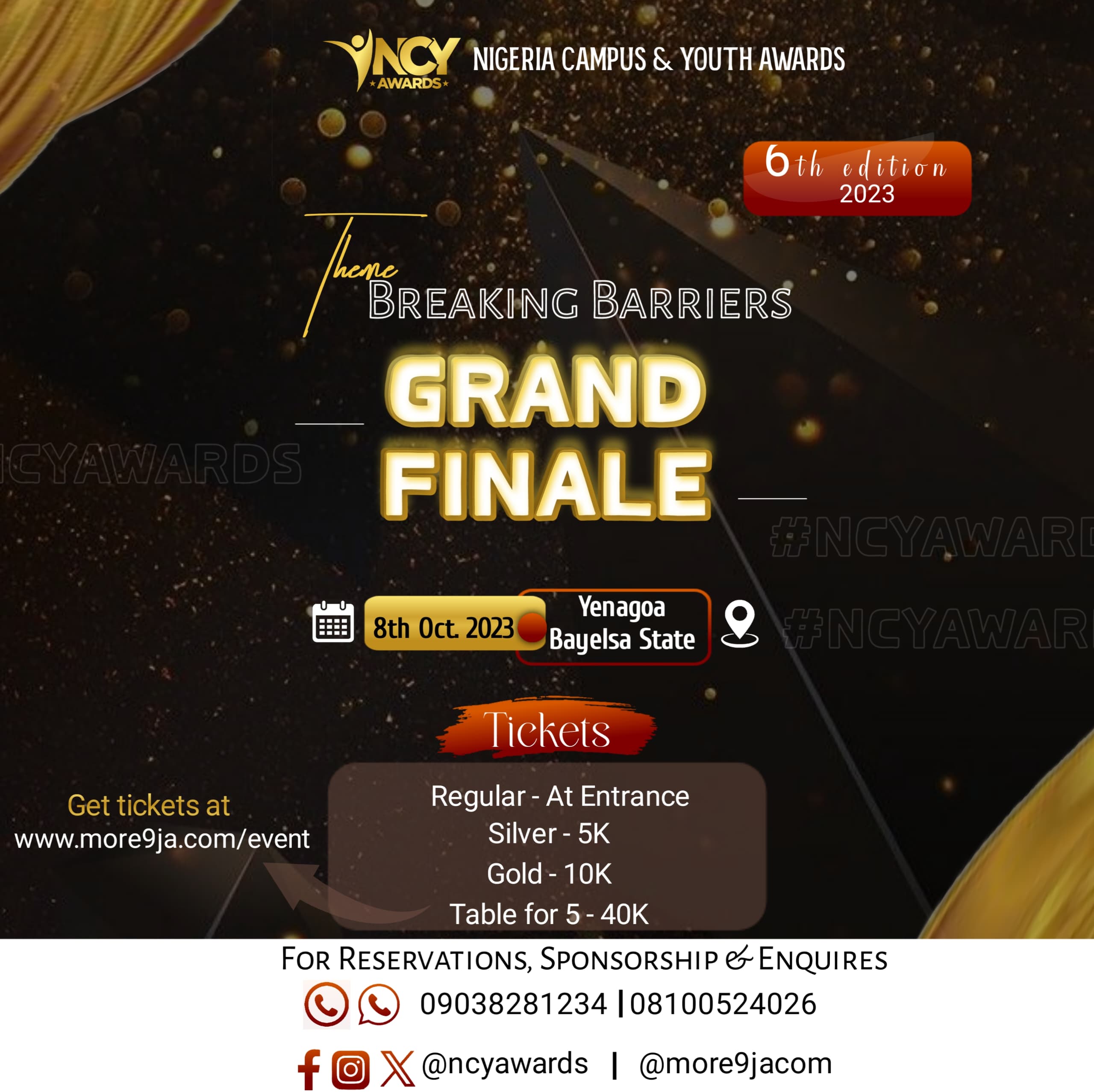 Nigeria Campus & Youth Awards 6th Edition 2023: Breaking Barriers
Nigeria Campus & Youth Awards (NCYA) is back with a bang for its 6th edition in 2023, and it promises to be bigger and better than ever. With the theme "Breaking Barriers," this year's NCYA is set to celebrate the extraordinary achievements and contributions of Nigerian youths and students who have pushed boundaries and overcome obstacles to make a positive impact on society.
Grand Finale Event Details
Date: 8th October 2023
Location: Yenagoa, Bayelsa State
The grand finale event of the 6th NCYA is scheduled to take place on the 8th of October 2023 in the Glory of all lands, the city of Yenagoa, Bayelsa State. This annual event has become a much-anticipated celebration of the incredible talents, innovations, and resilience of Nigerian youths.
Tickets
To be part of this extraordinary celebration, you can purchase tickets as follows:
Regular: Purchase at the entrance on the day of the event.
Silver: 5,000 Naira
Gold: 10,000 Naira
Table for 5: 40,000 Naira
For your convenience, online tickets can be purchased at www.more9ja.com/event. Don't miss out on securing your spot at this remarkable event, where you'll witness the best and brightest young personalities being recognized and celebrated.
Reservations, Sponsorship & Enquiries
For reservations, sponsorship opportunities, and enquiries, please reach out to the NCYA team through the following contact details:
Your support and participation in the event, whether as an attendee, sponsor, or partner, will contribute to the success of the NCYA and help empower Nigerian youth to continue breaking barriers and achieving greatness.
Stay Updated
To stay updated with the latest news, updates, and behind-the-scenes glimpses of the NCYA 2023, follow the event on social media:
Instagram: @ncyawards & @more9jacom
Twitter: @ncyawards & @more9jacom
Facebook: @ncyawards & @more9jacom
Website: www.more9ja.com
Don't forget to use the official event hashtags when sharing your excitement and memories: #NCYA2023 #BreakingBarriers