Countdown to Breaking Barriers 2023: Join Us for the NCYAWARDS 6th Edition 2023 Live Session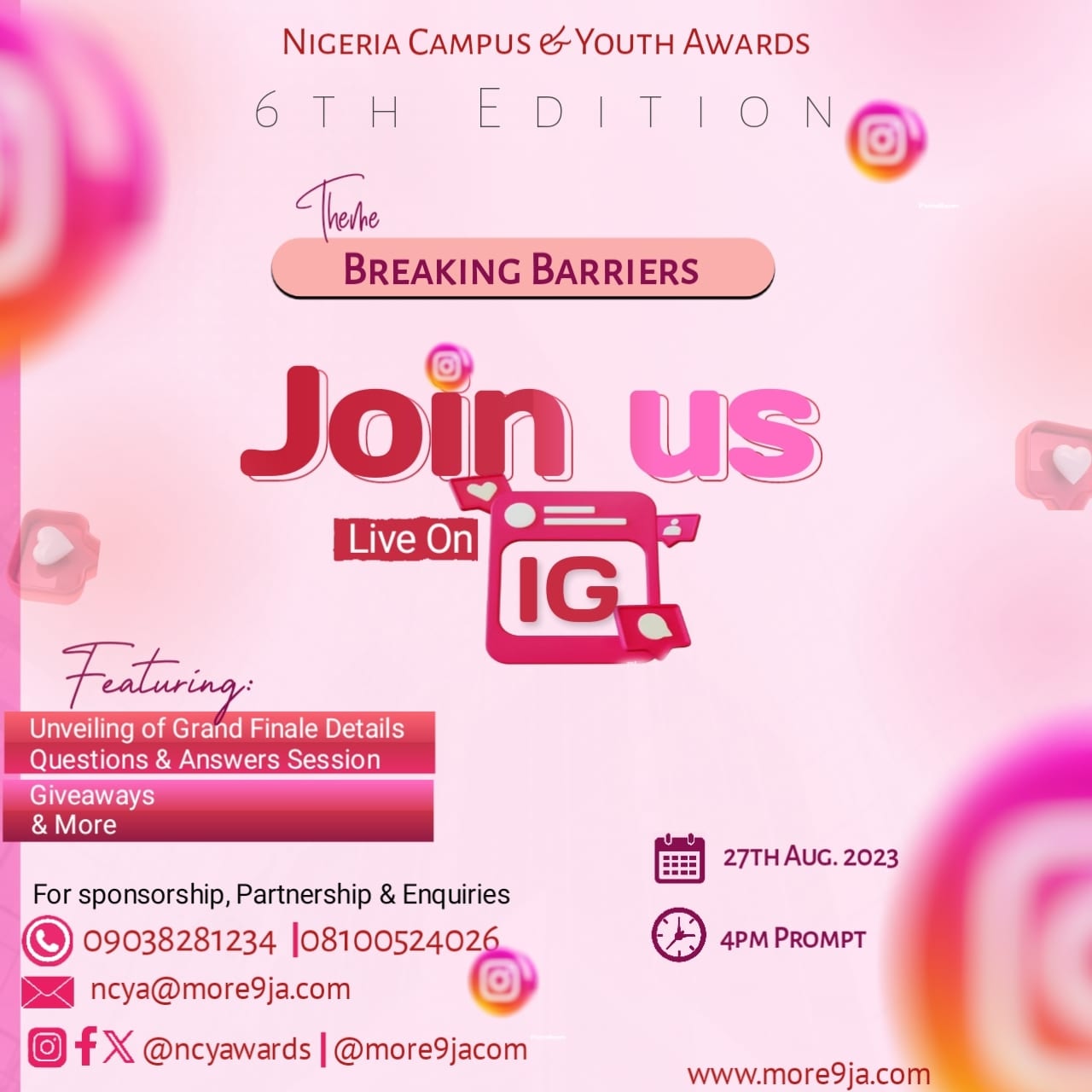 Anticipation is building as we gear up for an electrifying experience that will set the stage for the grand celebration ahead!
Nigeria Campus & Youth Awards proudly presents the Countdown to Excellence: A Live Session in anticipation of the 6th Edition 2023.
🕓 Mark Your Calendars: 27th August 2023, 4 PM
In this special live session, we're pulling out all the stops to give you a taste of what's to come at the main event. Here's a sneak peek of what's in store:
🔥 Unveiling of Grand Finale Details: Be the first to catch a glimpse of what awaits at the grand finale. Get ready to be wowed as we reveal the exciting plans and surprises that will make this edition truly unforgettable.
🤔 Interactive Questions & Answers Session: Engage with our panel of brilliant minds as they tackle your burning questions. Gain insights, wisdom, and a fresh perspective from those who've broken barriers in their own right.
🎁 Exciting Giveaways: Who doesn't love surprises? Tune in for a chance to win exciting giveaways that will add an extra layer of excitement to this pre-event celebration.
✨ And More: Brace yourself for inspiring stories, exclusive behind-the-scenes peeks, and a vibrant atmosphere that captures the essence of the Nigeria Campus & Youth Awards.
This year's theme, "Breaking Barriers," sets the tone for what's to come. It's a celebration of resilience, determination, and the unyielding spirit of youth who dare to dream beyond limitations.
To ensure you're front and center for this exhilarating countdown, follow us on Instagram: @ncyawards | @more9jacom. Stay connected, stay inspired!
For inquiries about Sponsorship, Partnership, and more, reach out to us at [email protected] or give us a call at 09038281234 | 08100524026.
As we gear up for the main event, let's come together to celebrate the power of breaking barriers and the excellence that shines through. Your presence will make all the difference!
Join us and be part of history in the making. 🚀🎉