Highlights from NCYAWARDS 2023 Grand Finale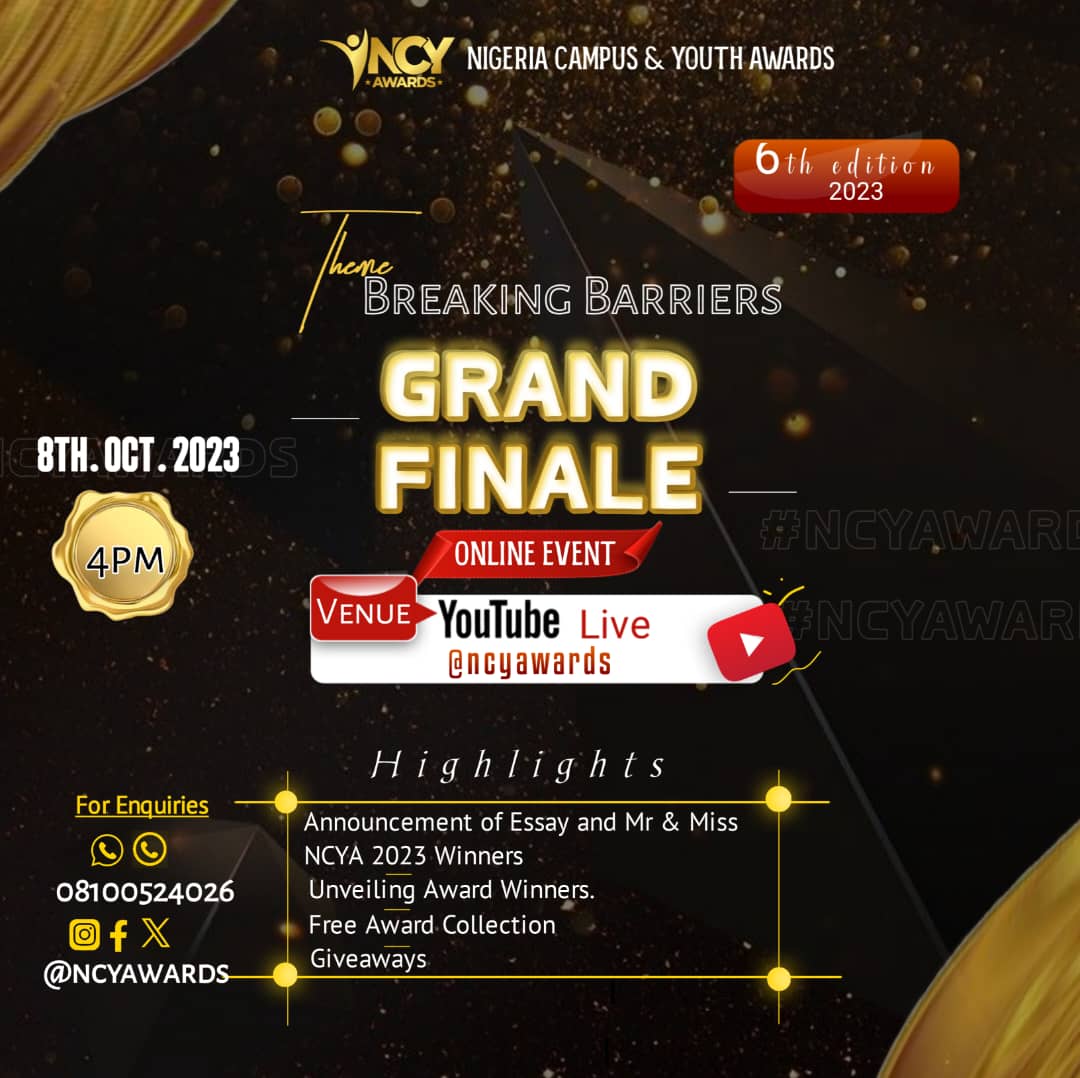 Nigeria Campus & Youth Awards 2023 Grand Finale was held Live on YouTube on Sunday, 8th October 2023. The sixth edition themed Breaking Barriers Edition featured Mr & Miss NCYA 2023, Essay Writing Competition and Campus & Youth Awards.
The event was anchored by the founder of the award organization, Arifayo Muftau Olayemi. During his speech, he emphasised the significance of the theme of this year's edition and the need for youths to utilize their full potential despite the obstacles and challenges in life.
Other highlights of the event included the appreciation of Team members and campus Reps, the Announcement of Essay Winners, Mr & Miss NCYA and the Campus & Youth Awards winners.
NCYA 2023 Campus Representatives
Ibrahim Tukur (Bayero University Kano)
Joshua James Balami (Federal University Of Gashua Yobe State)
Adediran Sunday Adekunle (Oyo State College Of Agriculture And Technology Igboora Oyo State)
Durowoju Mujeeb Tunde (Lagos State University Of Sciences And Technology (Formerly Laspotech)
Chukwu Malachy Chukwuerotem (University Of Nigeria Nsukka (Unn)
Muhammad Sanusi (Federal University Birnin Kebbi)
Adeshina Abdulateef Idowu (Gateway Ict Polytechnic Saapade)
Innocent Ekponoimo Bernard (Nigeria Maritime University)
Ebenezer Temitope Oluwatunmise (Federal University Oye Ekiti)
Mr & Miss NCYA 2023
Prizes
Cash Prizes, 1 Year Brand Ambassadorship, Projects Support, Exclusive Interview, Award Certificate and Media Publicity
Winners
Miss NCYA: Akuma Ruth Chidimma
Mr NCYA: Ihebirinachi Clinton Kelechi
Essay Writing Contest
Prizes
Cash Prizes, Award Certificates and Essay Publishing
Winners
1st Place: Omotoso, Abiola Sodiq (University of Ibadan) – Read Essay
2nd Place: Chideraa Anochirionye (Babcock University) – Read Essay
CAMPUS AWARDS WINNERS
BEST ARTISTE ON CAMPUS – TOBILESH – MAPOLY
CAMPUS BLOGGER OF THE YEAR – GODWIN SAMUEL (TUGEEZ1) – NDU
CAMPUS ENTERTAINER OF THE YEAR – ADEOSUN OLAMIDE – OYSCATECH
CAMPUS ENTREPRENEUR OF THE YEAR – DUKE EBUTU – NDU
CAMPUS LEADER OF THE YEAR – APIRI PRECIOUS BAIMANOLOGI – NDU
CAMPUS PERSONALITY OF THE YEAR – EDE NDIDIAMAKA PATIENCE – UNN
MOST CREATIVE STUDENT – ABDULRASAQ ABDULKHALIQ OLANREWAJU (AMORTYDESIGNS) – UNILAG
MOST INFLUENTIAL STUDENT – AJILARAN AHMED OLASUNKANMI – UNILAG
MOST INTELLIGENT STUDENT – EUNICE OKUNOLA – UNILAG
STUDENT ORGANIZATION OF THE YEAR – COLLEGE OF MEDICINE & PHARMACEUTICAL SCIENCE STUDENTS ASSOCIATION (COMPSSA) – UNILAG
YOUTH AWARDS WINNERS
ARTISTE OF THE YEAR – LYRICAL HAYZEED
CEO OF THE YEAR – AGIRIGI MIMIDO MARIS
ENTERTAINER OF THE YEAR – CHIEF OSA
ENTREPRENEUR OF THE YEAR – AJIBADE OMOLOLA OLUWATOYIN
MOST CREATIVE YOUTH – AKELEMOR BRIGHT CLEVERLY
MOST INNOVATIVE BRAND OF THE YEAR – TRIPLE S CONCEPT
ONLINE SHOP OF THE YEAR – MICHAEL JOULES (A&U)
WRITER OF THE YEAR – BOLUWATIFE ODEYALE
YOUTH LEADER OF THE YEAR – MUTARI LIMAN
YOUTH PERSONALITY OF THE YEAR – AMB. ADEDIRAN WAHEED
Award Collection/Profiling
All awards Voting Results are available at https://more9ja.com/awards/
Campus and Youth Awards Winners should request their digital award via https://more9ja.com/get
All award winners have the opportunity to publish their personal profiles for free on our website.
Digital Awards and Profile submission links will be sent to all award winners via submitted email.
Deadline for Award collection and Profile submission: 22nd October, 2023.
Mr & Miss NCYA and Essay Winners would be contacted via their contacts for redemption of rewards.
Final Words
Congratulations to all Winners, Keep making Nigeria and our Brand Proud in your endeavours.
Contact
Call/Whatsapp: 08100524026
Email: [email protected]
Facebook, Instagram & Twitter: @ncyawards
Playback of Grand Finale