Meet Miss Chidinma, First Runner Up – Face of More 9ja 2019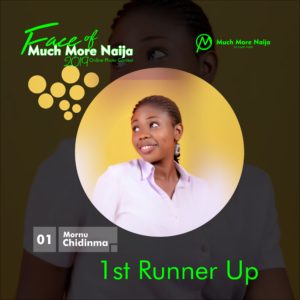 Let's get to know the personality of the First Runner Up in the just concluded Face of More 9ja 2019 Contest.
Can we meet you?
I'm Mornu Chidinma Joy, grew up in Delta state, a 200 level student of Federal College of Education, Asaba.
What's your relationship status?
I'm Single
What are your hobbies and interests?
I love listening to music, watching movies, reading stories, have in interest in people who motivate me, and charity work.
What's your ideology about life?
God first in everything you do, always be yourself, because we all have different personalities.
In your own opinion, what you do think is the major problem facing the Educational System in Nigeria and what are the possible solutions to it?
One of the major problems facing education is lack of infrastructures, the world is moving at a fast rate, most institutions lack structures, equipments, that can give students quality education. Possible solution to this problem is enough funding for education.
How did you get to know about the contest?
Through More 9ja page on Facebook.
What motivated you to participate in the contest?
I felt, I would have the opportunity to meet with other people.
What can you say about the organization of the contest?
Twas really a great time with the organizers. Keep doing your good work.
Thanks for the Compliment, What were your challenges during the contest and how were you able to overcome them?
My challenge was getting a good number of people to vote for me, persuading people to reach out to others to vote, my friends really helped alot. I was able to cope.
How do you feel emerging the first Runner up?
I feel happy, and privileged.
What do you plan to do with the fame and popularity the contest have given you?
It has boost my self esteem, with that I can get to any level of life to achieve my goals.
Where do you intend seeing yourself in the next few years?
A graduate, somewhere in the world achieving my dreams.
What's your Favorite Quote?
Never give up!
Any Shout-out or final words?
My shout out goes to my family and friends, they were all behind me during the contest. I really appreciate you all and much love I got for you all.
Follow and Connect with Miss Chidinma @mornudinma