Meet Miss Amah, Third Runner Up – Face of More 9ja 2019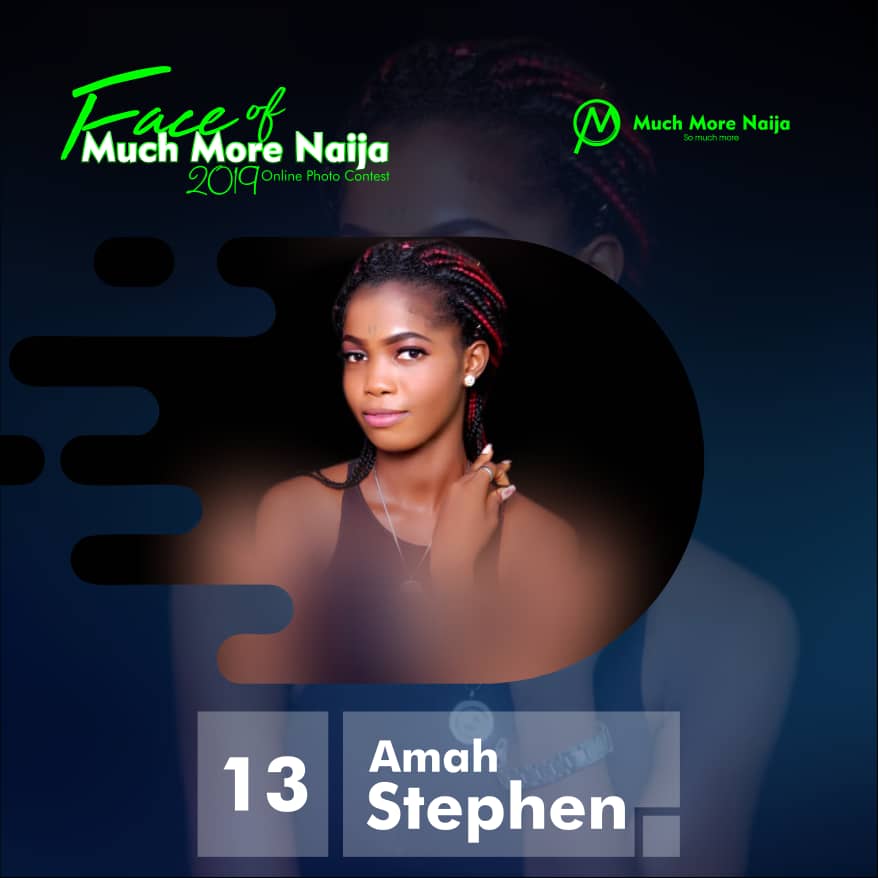 Miss Amah Onyenaturuchi Stephen also Known as Cherish Stephen finished as the third runner up in the just concluded Face of More 9ja 2019 Online Contest, Let's get to know her better in an exclusive Interview.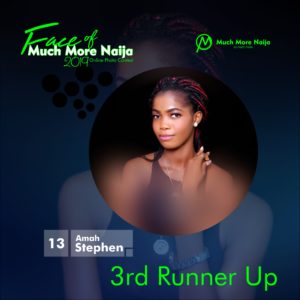 A big Congratulations on your success in the contest, Can we meet you?
I'm Amah Onyenaturuchi Stephen from Ebonyi state but resides in Bayelsa state.
What's your relationship status?
I'm Single
What are your hobbies and interests?
I love acting, modeling and writing.
What's your ideology about life?
Life on it's own is a race and it gives you back what you present to it in a repackaged way and the biggest irony of human life is that we seek happiness in materialistic things and virtual goals, we have this illusion of being happy but at times it doesn't seem that way.
How did you get to know about the contest?
I knew about the contest through a flyer on a Facebook page, so I sent a DM to the number on it via WhatsApp.
What motivated you to participate in the contest?
I had the zeal to do it so I went for it.
What can you say about the organization of the contest?
Actually from the experience I got from the contest, the organization was a nice one, I love the standard of the organization.
What were your challenges during the contest and how were you able to overcome them?
Actually, the major challenge I faced during the contest was the IP restriction placed on the voting page, which made some of my friends unable to vote. I reported the issue to the admin for it to be looked into.
How do you feel emerging a finalist?
Wow!
I feel great! Infact I feel extremely happy and grateful to God for making it a reality, I'm also thankful to the organization for the golden opportunity to be one of the contestant and proud to have my friends who voted for me.
What do you plan to do with the fame and popularity the contest has given you?
I will use it to prove to my fellow youths out there that once they believe in themselves and go for what they want and put in their possible effort, they will surely make something out of it and that they need friends too who will always be there to support and cheer them up and lastly that they must be social to all, manner of approach and facial expressions like smiles matters alot too.
Where do you intend seeing yourself in the next 5 years?
In the next five years I should be serving this great country, affecting lives positively through my acting career, excelling in my chosen skill and soaring high like an eagle.
What's your Favorite Quote?
My favorite quote is that "I can do all things through Christ who strengthens me"
Any Shout-out or final words?
Yap!
I would like to thank the organization once more for the opportunity given to me, I must say am really grateful and your standards are superb, I love it!… I also wanna thank my parents Mr. & Mrs. Stephen Amah and my only sibling Miss Ugochi Stephen… You are the best family in the world, I love you all!! And finally I wanna thank my friends out there who stood by me, for your votes and words of encouragement, I so much appreciate. I love u guys!!!
Thank you for your time, Once again Congratulations!
Follow and Connect with Miss Amah on Instagram @miss_cherish_steve