Coronavirus is cheaper than Ebola – Bishop David Oyedepo
The Presiding Bishop of Living Faith Church Worldwide aka Winners Chapel during today's live broadcast of the church's daily morning prayer service known as Covenant Hour of Prayer, has prayed against the fear of Coronavirus and also during his sermon declared Coronavirus to be cheaper than Ebola.
See full excerpt of the sermon: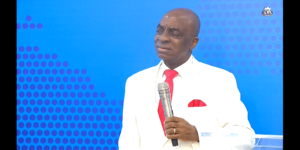 We listed a catalogue of the dead that Jesus raised back to life, we have 35 of them we brought out, what no health organization can dare, they can only give you death certificate, they can't stop it.
Let me tell you the Coronavirus problem, they are always advertising what Coronavirus is doing, what they are dealing with but how people are dealing with Coronavirus, they won't advertise it.
This week we had 10 testimonies, making it a total of 94, we didn't have that in Ebola, Coronavirus is cheaper than Ebola, what is it that everybody is shouting? Very Poor nations cannot go out to work, so they can become poorer and die of poverty.
I don't know but I know that there are some forces that are feasting, God knows them and God will deal with them, there are individuals that are feasting on the global endemic that have become the ruler of their world.
Everyday they are about to die, everyday they are dieing, Ok, what of those who are living?
Have they ever published that the following people have been discharged? No, the following are dead, many more are going to die, we are just waiting, actually the data shows that a thousand would die today… Come on, stop that, is that the first virus to visit the world?
Coronavirus, I cause your root and I cause everyone trading with you to feast on the flesh of humanity, I declare the liberty of mankind.