Call for Nominations for NCYAWARDS 2023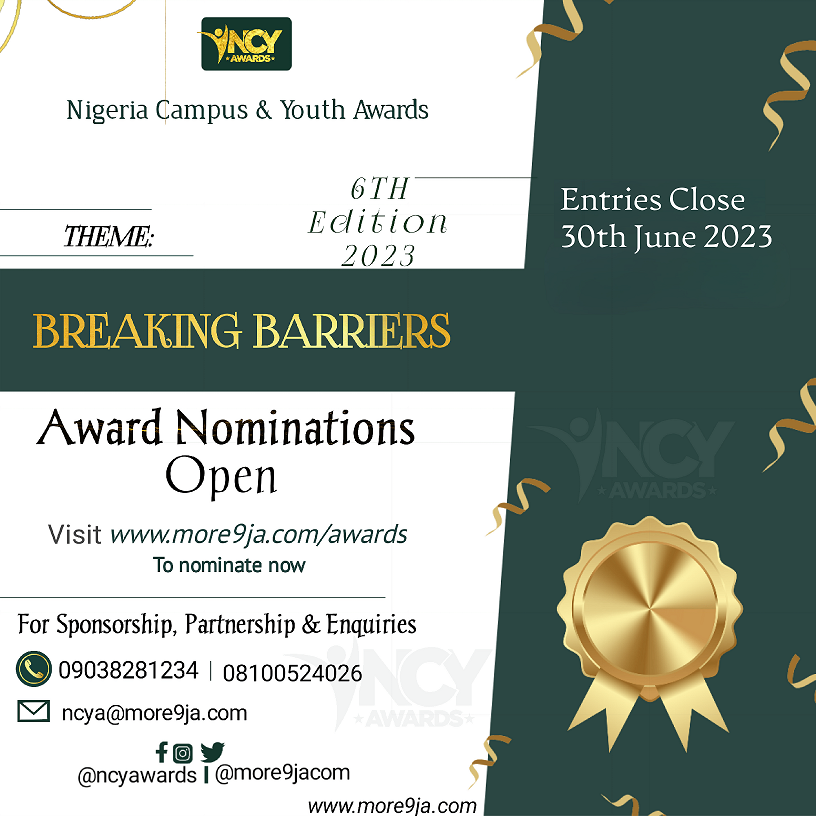 Nigeria Campus and Youth Awards (NCYA) is a prestigious event that celebrates the achievements of young Nigerians in various fields of endeavour. The 2023 edition of the NCYA promises to be bigger and better than ever, with the theme for this year's event being "Breaking Barriers".
Nominations for NCYAWARDS 2023 are now open and undergraduate students and youths are encouraged to nominate themselves or others they believe are worthy of recognition for their achievements.
The Nomination is free and fully online and would be open till June 30th, 2023. Thereafter, shortlisted nominees would be announced and unveiled for online voting.
Please note that while individuals are welcome to submit nominations for different categories, please refrain from submitting multiple nominations for the same individual in the same category.
Nigeria Campus & Youth Awards 2023 Awards Categories
Campus Categories
Best Artiste on Campus
Campus Blogger of the Year
Campus Entertainer of the Year
Campus Entrepreneur of the Year
Campus Leader of the Year
Most Creative Student
Most Influential Student
Most Intelligent Student
Personality of the Year
Student Organization of the Year
Nominate Now via: www.more9ja.com/awards
Youth Categories
Artiste of the Year
Blog of the Year
CEO of the Year
Entertainer of the Year
Entertainment Brand of the Year
Entrepreneur of the Year
Media Organization of the Year
Media Personality of the Year
Most Creative Youth
Most Innovative Brand of the Year
Online Shop of the Year
Writer of the year
Youth Leader of the Year
Youth Personality of the Year
Youth-Led Organization of the Year
Nominate Now via: www.more9ja.com/awards
For sponsorship, partnership and enquiries, please call 09038281234, 08100524026 or email [email protected].
Follow the event on social media for updates @ncyawards & @more9jacom