Nigeria Campus Awards 2020 Voting Statistics and Updates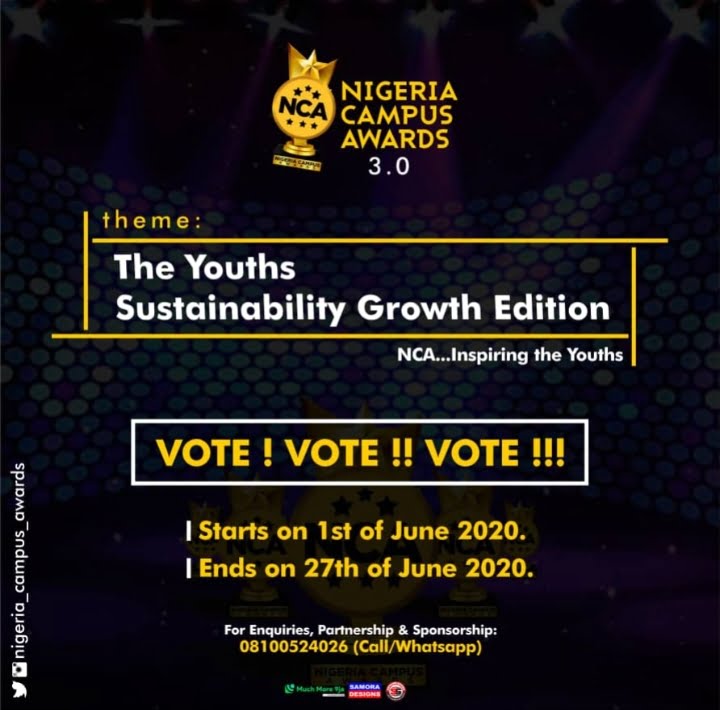 NCAWARDS 2020 Voting ends by Midnight on June 27th 2020!
VOTING STATISTICS FOR EACH CATEGORY
(Final Update, June 27th 2020)
Best Rapper on Campus: 1,071 Votes
Best Student Representative Executive: 1,879 Votes
Best Use of Social Media: 973 Votes
Big, Bold and Beautiful: 614 Votes
Campus Artiste of the year: 334 Votes
Charismatic leader on campus: 998 Votes
Creative student of the year: 1,476 Votes
Creative Writer on Campus: 983 Votes
Enterprising Student of the year: 685 Votes
Event Planner of the Year: 746 Votes
Fast Rising Artiste on Campus: 533 Votes
Miss Personality: 896 Votes
Most Influential Student: 2,940 Votes
Most Innovative Student: 466 Votes
Most Intelligent Student: 1,239 Votes
Most Sociable: 915 Votes
Mr Personality: 384 Votes
Next Rated Artiste on Campus: 623 Votes
Online TV of the Year: 813 Votes
Political Icon on Campus: 2,370 Votes
Popular Artiste on Campus: 548 Votes
Popular Student on Campus: 1,760 Votes
Student Activist: 304 Votes
Student blogger of the year: 437 Votes
Student Comedian of the Year: 1,097 Votes
Student Entertainer of the year: 2,062 Votes
Student Entrepreneur of the year: 6,663 Votes
Student Graphic Designer of the year: 467 Votes
Student Model of the year: 1,821 Votes
Student Organization of the year: 288 Votes
Student Photographer of the year: 1,843 Votes
Student PR of the year: 843 Votes
Note: The above votes signifies the total number of votes recorded per category from all nominees.
Full Results would be unveiled on Event Day and Winners would be awarded accordingly. Event details would be available shortly.
Be rest assured, awards for voting categories are not for sale but strictly won by nominee with the highest votes in each category, NCAWARDS and partners cannot interfere with the results to favour any one.
However, individuals and brands looking for special Recognition awards are to contact Nigeria Campus Awards on +2348100524026
Keep visiting this post for updated statistics and information as we would be updating it daily.
Important Update: All nominees are to click here to join our WhatsApp group for vital information(For Nominees Only)