Black Princesses Crowned Champions of WAFU B U20 Girls Cup 2023 After Thrilling Victory over Falconets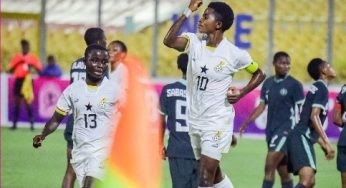 Accra, Ghana – In an intense showdown between football powerhouses, the Black Princesses of Ghana emerged victorious, defeating Nigeria's Falconets to claim the title of champions in the inaugural WAFU B U20 Girls Cup of Nations. The high-stakes final, held at the Ghanaian host nation's stadium, ended in a 1-1 draw after full time, leading to a nail-biting penalty shootout that saw the Black Princesses secure a 3-1 win.
Anticipation was rife as the arch-rivals took the field, with Nigeria entering the match as favorites to conquer their eternal adversaries. The Falconets dominated the early stages, guided by their astute coach, Chris Musa Danjuma, and created several promising scoring opportunities.
However, it was Ghana who struck first, taking advantage of a penalty conceded by Nigeria. Ghana's captain, Stella Nyamekye, confidently converted the spot-kick, breaking the Falconets' streak of not conceding a single goal throughout the entire tournament.
As the first half drew to a close, Nigeria desperately sought to level the playing field but struggled to find the elusive equalizer against a resolute Ghanaian defense.
The second half witnessed an onslaught from the Falconets, as they relentlessly pressed forward, piling pressure on their opponents and carving out numerous chances. Despite their determination, luck seemed to evade them, with their final pass or crucial bounce failing to breach Ghana's goal line.
In a stunning turn of events, it was Flourish Sabastine who finally broke through Ghana's defense in the 84th minute. Seizing an opportunity presented by a misjudgment from the opposing goalkeeper, Sabastine calmly slotted the ball into an unguarded net, equalizing the score. The relief and jubilation were palpable, particularly for Sabastine, who had been responsible for conceding the penalty that allowed Ghana to score their solitary goal. This pivotal strike marked Sabastine's fourth goal of the tournament.
With only a minute of regular time remaining, the Falconets briefly switched off, nearly allowing Ghana to snatch a last-minute victory. However, fate intervened in Nigeria's favor as the ball rebounded off the crossbar, sparing them from heartbreak.
With the score deadlocked at 1-1 after the full 90 minutes, the match proceeded directly to a penalty shootout to determine the champions. Demonstrating nerves of steel, the Black Princesses calmly converted three of their spot-kicks, while Nigeria managed to find the back of the net only once. As a result, Ghana's players etched their names in history as the first-ever winners of the WAFU B U20 Cup, securing a memorable victory for their nation.
The tournament showcased the immense talent and fierce competition among the West African nations, with the Black Princesses' triumph over the Falconets underscoring the thrilling nature of the sport. Both teams exhibited exceptional skills and sportsmanship throughout the tournament, leaving spectators eagerly anticipating future editions of the WAFU B U20 Girls Cup of Nations.