Must Know Health Benefits of Bananas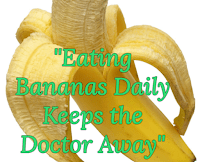 Banana as we all know is a curved fruit which grows in bunches and has a creamy yellow body when ripe.
Banana fruit has many nutritional values and health benefits but we will be discussing some of them in this article.
1. Protection of the heart:
Bananas contain potassium that aids in ensuring the health of the heart and prevent heart diseases.
2. Strengthening of bones:
The nutrients contained in bananas are helpful in absorbing calcium and building strong bones in the body.
3. Control of blood pressure:
Eating bananas daily help in lowering blood pressure and prevents hypertension which is popularly known as high blood pressure.
4. Aids in the treatment of diarrhea:
The adoption of banana in our diet erases the possible causes of diarrhea and stooling from the body. It also aids in the quick recovery of such patients.
5. Hastening digestion:
Bananas help in the digestion of food and also hasten the process of absorbing nutrients.

6. Aids in controlling blood sugar levels
Eating bananas after meals can help in moderating blood sugar levels due to its richness in fiber.
Thanks for reading, Please do well to share this post.