Highlights from FUO Inter-Departmental Public Speaking Contest Eviction Show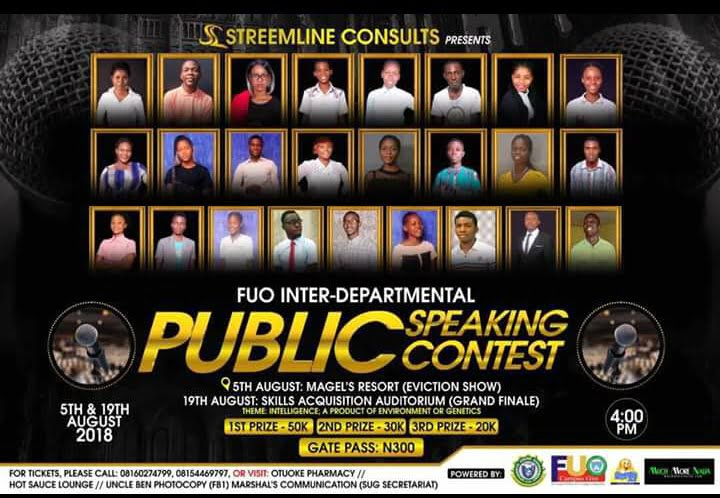 More 9ja Live at FUO Public Speaking Contest
Federal University Otuoke Inter-Departmental Public Speaking Contest Eviction Show organized by Streamline Consults brought 27 contestants that was outstanding at the maiden audition show to speak on different topics at Magels Resorts Otuoke, Bayelsa State.
The contestants were divided into five groups that spoke on the following topics:
1. Should abortion be legalized in Nigeria?
2. Should Religious Institutions pay tax?
3. Artificial Intelligence: Humanity doom or Future
4. Sport betting: a life empowerment scheme or a life waster
5. Is talent enough?
The event also featured a dance drama by Murphy, a jaw breaking rap freestyle by LA, spoken words by Mc J and Music by FBID.
The audience was entertained by some more music by the DJ in the house while the Judges were compiling the results.
The Event was brought to an end after the announcement of the 15 finalists that would be advancing to the grand finale on the 19th of August 2018.